Flights and Airports
Booking your flight
---
Do not book your flight until you have heard from the program director regarding flights.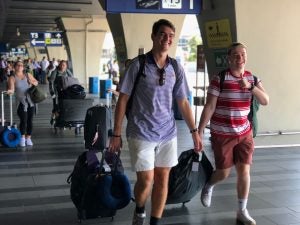 Once the faculty/staff flights are booked the director will recommend flights for students so we can arrive and depart close to the same time. If arrival and departure times are close, ground transportation to and from airports in Italy will be provided at no additional cost. To book the best prices and the best seats you will need to book your flights as soon as you hear from the director. Do email her with questions!
Transatlantic flights are not included in the program cost. Airfare is usually $900.00- $1,400 depending on the season
In order to see more places in Italy we sometimes arrive and depart from different cities. If that is the case for your group, our tickets will be booked using the multi-destination or multi-city tab on the airline's website
Do not book two one-way tickets as it will be much more expensive
Try to book a flight with few layovers
Leave plenty of time on layovers between your connecting flights in case any of them are delayed. It would be better to wait three hours at the airport than to have only a one hour wait and find the first flight was delayed causing you to miss your connecting flight to Italy
DURING THE PANDEMIC Coronavirus crisis, we will try to schedule our flights as a group, together, with non-stop arrival and departure into ROME.
DO NOT BOOK ANYTHING WITHOUT sending it to the director to REVIEW, and ONLY AFTER you hear from her with instructions.
Departing from the States
---
Follow the handbook instructions about packing and luggage restrictions
Make sure your luggage is well labeled with our lodging address along with your name and e-mail address. Sometimes checked luggage does get lost
When you arrive at the airport boarding gate you might want to have an ECU sign to hold up so you can find other ECU students
Sometimes wearing purple and gold helps you find each other
You will have a list of everyone's flight number so you will know what other students and teachers are on your flight
Arriving at the airport in Italy
---
If you are arriving near the scheduled pick up time, staff will meet you at the airport with transportation to our lodgings
Look for someone holding up an ECU sign. We will know what flight you are on and we will also know if it has been delayed. You will get frequent emails about this prior to your departure.
If you are arriving in Rome, after picking up your luggage our group will normally be waiting to the left after you exit, by the coffee shop/cafe near the exit in Terminal 3
If you arrive in Terminal 1 in Rome you should make your way to Terminal 3 to find the group
If you know your plane arrives at a different time than the group arrival time you should pre-arrange the pickup information with the director before you depart. You may need to take a taxi on your own.
If your plane is late when it arrives you should look for the ECU staff. If you don't find anyone, follow the detailed instructions on how to get to our lodgings in the handbook by taking a taxi.
Departing from the airport in Italy
---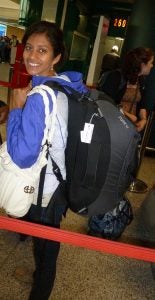 Some sessions may be departing from the airport in Venice, but during the pandemic in 2021, we are planning to have all students depart from Rome so they can get DIRECT flights without layovers in other countries. Please follow the instructions you will be given about how to book flights. You will be receiving an email from the director well ahead of the program dates.
Travel light, pack light! It will make your trip so much more enjoyable. You will each be managing your own luggage and you can buy toiletries and many other things you will need once you arrive in Certaldo.