Packing & Preparations
---
First rule – Pack Light!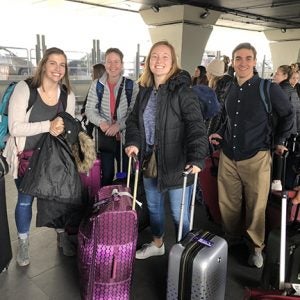 You can buy things easily in Italy if you find you don't have enough. Be sure you can easily manage your luggage by yourself.  Practice before you depart.  Bring less than you think you need, packing only essentials regarding weather changes.  We carry our luggage up and down stairs, on and off trains, and up and down our hill. There are no elevators in Certaldo and all lodgings are upstairs. There are so many markets with reasonable prices that you may want to shop when you are in Italy!
Limit yourself to:
one carry-on size bag: 9" x 21" x 13"
one day pack for short overnights or day trips (on plane you can put your purse inside)
one checked bag of 50 pounds or less for fall and spring students only.
For shorter summer sessions, bring only carry-on bag and day packs, NO BIG LUGGAGE!
There are washers in ALL apartments so you can easily wash your clothes
Do not bring any additional bags. Your carry-on bag can be wheeled, a duffle or a back pack if you prefer. You will use this often for field trips or free weekend travel.  Make sure it is light and sturdy.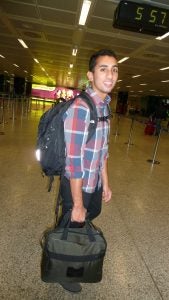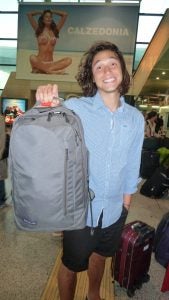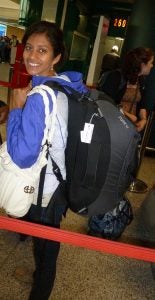 Some suggestions for what to pack:
Be prepared for all weather. September will be warm but by October 1st, you may need a sweater. November is fall like, windy and cool, and it typically does not get really cold until late December. January and February are cold and windy, but normally little or no snow. March and April are sunny and in the 60's, but often rainy. May and June are warm or hot in the day and cooler at night. Mid-June and July can be in the 90's. Bring at least one thing you can layer, for all types of weather – hot, warm, cool, and cold.
During the semester long programs, bring one set of long underwear just in case.
Girls will want at least one dressier skirt/pants and boys may want one nice shirt and pants. No high heels! Streets are cobbled and you can easily twist an ankle.
Swimsuit, shorts or cover-up if you like.
Underwear and socks.
Girls should bring a few short sleeve shirts, long sleeve shirts, and cardigans that layer and can be worn with either long pants, short or skirts.  Pick out a few things to wear on the bottom (like 2 pairs of long pants, a couple of skirts, capris or shorts) and then find tops that you can interchange with them. Please do not bring extremely short shorts. Note that when we visit cathedrals boys and girls will need to have knees and shoulders covered.
Two pairs of comfortable walking shoes. I prefer one water resistant pair with Vibram-type soles for walking to town when it is wet and another comfortable walking pair in case you get blisters and need to change. You can also bring sandals or flip-flops for shower shoes, or beach, and boots, clogs, or whatever you like to wear in colder weather.  Keep your luggage as light —shoes weigh a lot!
Jacket: a warm/fleece or down coat for cold weather, and a raincoat with a hood.
Warm hat and gloves if you will be there in winter months. One pair of wool socks.
Something to sleep in
A thin towel that packs easily – something you don't mind leaving behind! Towels are not provided in apartments, but you can purchase them once you get to Italy and we have at least one towel to give all students when you arrive in Certaldo.
Wristwatch or other time piece that will allow you to meet at designated times.
Documents and photocopies of credit cards and passport, tucked safely away. Travel alarm clock or cell phone with alarm clock
Earplugs: a definite if night noises bother you.
First-aid kit. A few band-aids – moleskin for blisters, etc.
Medicine and vitamins. Keep medicine in original containers with legible prescriptions.  You might also bring something like Pepto-Bismol tablets, Imodium, or Dramamine for nausea or motion sickness, cold medicines or aspirin/ibuprofen. If you take a prescription medication bring enough for the entire time you are away and put at least one week's worth in your carry-on luggage in case your checked bag is lost or delayed.
Extra eyeglasses, contact lenses, and prescriptions. Contact solutions are available in Italy at pharmacies.
Sunglasses and sunscreen (you can easily buy both in Italy).
Toiletries kit. Put all squeeze bottles in sealable plastic baggies, since pressure changes in flight can cause even good bottles to leak. If you bring any in your carry-on bag, all liquids, gels, and aerosols must be in three-ounce or smaller containers, and all of these items must fit within a single, quart-size sealable plastic baggie. Bring a little toilet paper or tissue packets just in case you need it. Fingernail clippers and tweezers are also handy. Remember you can buy shampoo, lotions, soap, etc. once you get to Italy.
Hand sanitizer is a must.
Antiseptic wipes if possible (don't forget to wipe down your airplane seat!
Face masks to wear when necessary during COVID.
Sealable plastic baggies. Get a variety of sizes. In addition to holding your carry-on liquids, they are ideal for packing leftover picnic food, containing wetness, and bagging potential leaks before they happen. The two-gallon jumbo size is handy for packing damp clothing.
Sewing kit. Take along a few safety pins and buttons too.
Address list. A list of email and mailing addresses will help you keep in touch. You can send mass emails as you go. Bring a shrunk-down print-out of your email address book in case you can't access it online. Or if you prefer to send postcards, consider printing your mail list onto a sheet of adhesive address labels before you leave. There will be Internet access in most cities.
Small notepad and pen.
Do not bring a hairdryer or flat iron. Our current in Italy will burn them.
Direct Current Adaptor. In Italy the current is 220 V 50 cycles (in the US it is 110 V 60).
Laptop Computer/iPod/Headphones/chargers, portable hard drive, etc.  all labeled carefully.
Class Supplies- read syllabi for details
Special Things to Bring:
Power converter or adapter. A power converter changes the voltage from the European 220 volt down to the U.S. 110 volt so you will not fry your electronics. An adapter is just a transition piece that allows you to plug your US electronics into the wall outlet. Your computer and other major electronics usually automatically convert the voltage (read the little box on your power cord, or check online) so depending on what electronics you bring, get what you need!!!  It's a good idea to bring several of the adapters that will allow you to plug in your small electronic devices, chargers, computers, camera, etc.  You will want at least one for the classroom and one in your apartment.  PUT YOUR NAME ON THESE AS THEY EASILY DISAPPEAR
Sharpie or other permanent markers. Bring these or buy when you arrive and mark your personal items; in particular electronic cords, etc.  We have so many people who own the same items that it can be very confusing.
Do not bring hairdryers, curling irons etc., as they will almost always burn out, even with adapters. Wait to buy them in Certaldo. Most cost less than 20 euros and students in apartments can share the cost.
Bring headphones for Skyping so we do not hear your private conversations.
Bring Ziploc plastic bags – they are difficult to find in Italy and can help you pack wet items.
Bring prescription medicines. Have them filled for the duration of your travel time.
Pack non-prescription medications as well – cold meds, dizzy meds, headache, etc.
Review packing list carefully for many other suggestions
Class Supplies:
See class syllabi for supply lists and think carefully about what you want to pack from home. If you have any questions about what you need please contact the director or your instructor.
There are office supply stores and paper stores (cartoleria) in Certaldo Basso where you can buy notebooks, pens, pencils, paperclips etc. Our school office has a stapler, pencil sharpener, paper cutter, copy machine and printers. You can also buy glue sticks, exacto knives, tape, etc. in Certaldo Basso. Most of us buy art supplies at stores in Florence.
For photographers, large format inkjet and laser photo printers are in our classroom. See class syllabus for information on camera and computer requirements for the class.
Color and Design and Book Arts students will find many beautiful papers in Florence, Certaldo, or in our own school store. We have book board, linen threads, glue, polymer and acrylic paint. You can also make books with found papers, shopping bags, maps, photos or drawings. We have tool kits that students check out to use during the semester. Kits include scissors, sewing needles, glue brushes and bone folders. Bring a ruler and exacto knife. Check syllabus for other supplies you might want to pack from the states.
You will be sent a syllabus for each class with specific information about supplies for that class.
If you have questions, please email the director at DARTYL@ECU.EDU.
Check list for airplane carry on bag:
Ear plugs
Head sets
Neck pillow
Lip balm or Vaseline
Something to help you sleep if you can take it
HAND Sanitizing wipes
Snacks
3-Day Trip Packing Tips :
After arrival, we will travel together for 3 days prior to arriving at our apartments in Certaldo. During the full semester, after you arrive, a bus will normally pick up our heavy luggage and transport it to Certaldo, and we will be traveling with only our carry on luggage for 3 days (as the summer groups will be for all our trips). Carefully pack your carry- on luggage for this trip with everything you will need for 3 days.  Keep it light!!
Shoes:
2 pairs of comfortable walking shoes (one to wear and one to pack) warm socks
Clothing:
2 pair of pants or leggings
1 skirt/shorts if you like to wear them
1-2 warm undershirts or tops to layer under outer clothing for warmth if it is cold
2 -3 shirts
1or 2 warm sweaters or cardigans if it is cold
warm scarf, hat and gloves if it is cold weather
4 pairs of underclothes
Something to sleep in
warm coat that ties around waist so easy to manage in museums etc.
raincoat/umbrella!!
Electronics
Camera
computer
adaptors and cords for charging in European outlets
Toiletries
Toothbrush, toothpaste, lip balm, deodorant
Hotels should have shampoo, conditioner, lotion and soap and hairdryers
Contact solution and cases
Miscellaneous
sunscreen
Razor, shower cap
Minimal makeup if you use it-
MEDICINES that you normally take
DIZZY medicine for windy roads on a bus trip (like Dramamine)
A few aspirin, tylenol, ibuprofen or cold medicines in case you get sick
A book if you can read on the bus! Or maybe a journal if you want to write in it?
BE SURE TO READ THE HANDBOOK COVER TO COVER BEFORE DEPARTING! You may find more packing tips there.