Spring 2024
The Spring 2024 application is now open. Click here to apply. Prices and dates are subject to change.
Join us for the spring semester in Tuscany! We will depart from the States in early February, arriving in Italy when our village is beautifully quiet and peaceful–welcoming us with open arms. Tuscan weather is similar to that in North Carolina, warming in March and fresh, bright, and colorful as spring blooms in April. We will begin our program by flying into Rome with a visit to the beautiful hilltop village of Orvieto, where we will stay for three days, getting to know each other before making our way by bus to Certaldo Alto, our home village. Other trips during the semester include visits to Pisa, Florence, Siena, Lucca, Cinque Terre, and the Amalfi Coast, and students will have a few free weekends and a 5 day spring break for independent travel. The program finishes in Venice where we can enjoy the romantic canals and surrounding islands in glorious weather, with the perfume of blooming wisteria lingering in streets, and fewer tourists than in summer. Studying in Italy during winter and spring will offer peaceful empty streets and travel opportunities with less tourists and cooler temperatures. Don't miss this opportunity to make memories you will treasure all your life!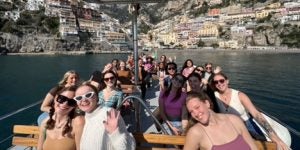 Cost for the spring semester is $10,500 + $75 study abroad administrative fee.
Cost includes:
Transportation to and from airports in Italy
International health insurance while abroad
Lodgings and utilities in beautiful apartments in Certaldo
Tuition for up to 18 credits
Transportation on all school trips in Italy (trains, buses, and boats)
Dinners together in Certaldo on class days
Lodging, breakfast and dinner on all overnight trips
Museum entrances and tours
3 days in Rome
3 days in Venice
Overnight trips to Florence, Orvieto, Lucca
3 day trip to the villages of the Cinque Terre
3 day trip to Pompeii and the Amalfi Coast
Day trips to San Gimignano, Volterra, Pisa, Siena, Bagnoreggio
Entrance to Cinque Terre National Park on the Mediterranean
Students budget for their own lunches and breakfasts in Certaldo. Our apartments have full kitchens available for cooking and grocery shopping can be done at the stores in Certaldo Basso. Apartments also have washing machines so you can do your own laundry!
Airfare is not included in the price of the program.  Flight times will be recommended by the program director. Airfare is usually $1,300 or less during this season. If students  arrive and depart close to the group flight times, ground transportation to and from the airports will be provided at no additional cost.
Application Instructions
Fill out the complete application and submit it online at the ECU Pirates Abroad website. After your application is reviewed, you will receive e-mail notification about how to pay if you have been accepted. You will need to pay a deposit to hold your spot, even if you have been accepted. If you would like to inquire about the status of your application, please contact the Education Abroad Office at studyabroad@ecu.edu.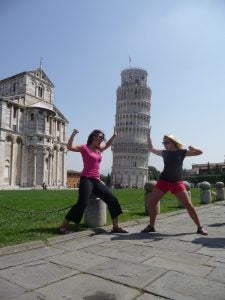 Once you have been accepted
After you receive an acceptance e-mail, a non-refundable $75 application fee and a $200 housing deposit will be due to secure your spot.  Your place in the program will not be confirmed until these funds are received. Payment should be sent as soon as you are sure you plan to attend, even before the deadline for applications. If the program fills prior to receiving your payment, even if you have been accepted, you will be placed on the waiting list. Please contact Shadawn Simmons with questions regarding payments at simmonssh@ecu.edu.
Once accepted, you will receive an e-mail with instructions on how to pay the two separate payments (administrative fee/housing deposit). You can also login to your Pirates Abroad application post-acceptance to view payment instructions. If you are financial aid our office will be notified and we can modify your payment due dates, until your aid is received.
The program director and the citizens of Certaldo have requested that all students and participants in the program be vaccinated against COVID-19 and participants must follow all local masking and COVID guidelines that may be in place in Italy.
Course Registration
Our classes allow students to earn general education credits that include fine arts, humanities, science, foreign language, and social sciences. You can select classes online when you apply, and after your acceptance is confirmed, you will be asked to reconfirm your class choices. You will NOT register yourself on campus because our classes will not be listed on the ECU registration website. Your registration will be managed by the Office of Global Affairs.  You can drop and add classes during the first week you are in Italy after you meet all the teachers.
Click here to see a list of classes for Spring 2024.
Spring 2024 Payment Schedule
Upon acceptance, to confirm your spot, a $75.00 non-refundable administrative fee and $200 non-refundable housing deposit is due. It is recommended to pay these fees as soon as you are accepted into the program to secure your spot.
November 1, 2023- $2,200.00 payment due
Final payment is due on the same date as the main campus spring tuition bill deadline.  The amount due is $8,100. Payment plans are not accepted for the final payment. Check the Cashier's Office website for dates.
Note: Even if you have been accepted, your spot will not be held until we receive your $75 application fee and $200 housing deposit. You should plan to pay the deposit as soon as you are sure you wish to join us in Italy to ensure your spot in the program. If the program fills with paid students, you may lose your spot by waiting. Once you have been accepted you will receive an e-mail with instructions on how to pay the two separate payments (application fee/housing deposit). You can also login to your Pirates Abroad application post-acceptance to view payment instructions.
Spring 2024 Itinerary
To take advantage of group transportation to and from the airports in Italy, we ask that you not book flights until you hear from the director with suggestions for arrival and departure times!
| | |
| --- | --- |
| January 15 | Online introduction to classes may begin - schedule TBA |
| February 4 | Depart for Rome (FCO) Arrive by 9:15 AM on February 5 |
| February 5-7 | Medieval Hill Town tour in Umbria |
| February 8 | Bus to Certaldo |
| February 9 | Classes and orientation begin in Certaldo |
| March 15-19 | Classes in Rome, the Amalfi Coast, and Pompeii |
| March 20-24 | Spring break independent travel or return to Certaldo |
| April 6-7 | Lucca Overnight |
| April 22-24 | Classes in Cinque Terre |
| April 28-30 | Classes in Venice |
| May 1 | Depart for USA from Venice after 10 AM |