CAPTURE YOUR HORIZONS
CAPTURE YOUR HORIZONS
---

East Carolina University is the third largest member of the prestigious University of North Carolina public university system, with approximately 29,000 students. ECU is accredited by the Southern Association of Colleges and Schools to award bachelors, masters, and doctoral degrees. We offer a broad array of programs in health sciences, environmental sciences, business, engineering, and computer science. Here you will not only study in your chosen field, but also have opportunities to grow culturally, take advantage of research and community service activities, and make friendships and memories that last a lifetime.
---
Exciting things are happening at ECU
Our faculty and students are setting the standard for excellence through scholarship, service, discovery, and leadership. These values will guide your educational experience here. East Carolina has a history of serving the people of the region, the state, and beyond through education, innovation, and service. We not only believe in a better future; we seek to achieve it.
Utilize our Degree Explorer to find where you will make an impact.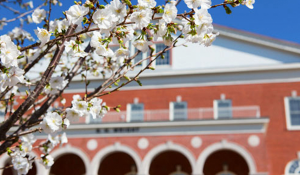 18:1
Student to Faculty Ratio
---
Life in Greenville
---
Less than a two–hour drive from North Carolina's state capital of Raleigh in one direction and the NC beaches in the other direction, Greenville is a hub of educational, medical, cultural, and economic activity. With a population of more than 90,000 people, there is plenty to explore on campus and beyond.
LEARN MORE ABOUT GREENVILLE, NC HERE.
Average summer temp: 29oC
Average annual rainfall: 124 centimeters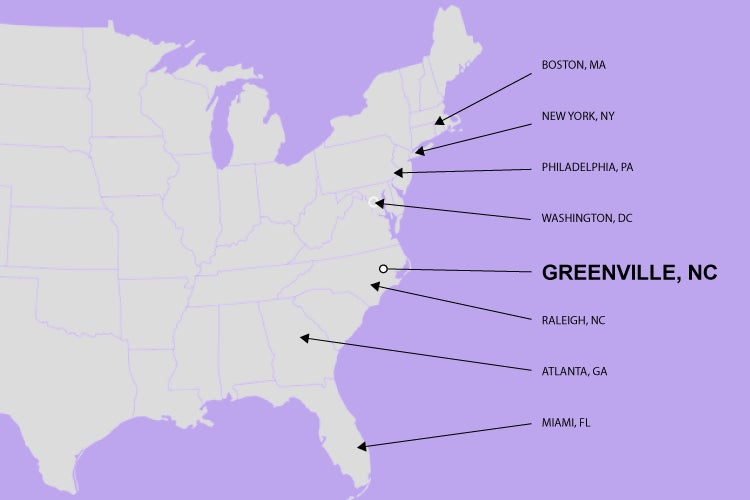 Student Organizations
---
ECU is home to more than 400 registered student organizations; the variety and diversity of the clubs and groups allow students to meet new people, learn new things, and cultivate their own interests.
Housing
---
Students have many housing options, both on and off campus.
⇒ For information about living on campus, visit CAMPUS LIVING
⇒ For off-campus housing resources, visit OFF CAMPUS HOUSING
Athletics

---
Whether you're on the field playing intramural or club sports, or in the stands cheering on the Pirates as they compete as part of the American Athletic Conference, you'll have the opportunity to experience collegiate-level athletics in the middle of it all. Visit ECU Pirates for more information on ECU's rich athletic traditions.
Transportation
---
The ECU Transit bus system provides transportation on and off campus, and an easy ride between Main Campus and Health Sciences Campus. Service is free for students, staff, and faculty. There is also a shuttle to Raleigh-Durham International Airport available for a small fee. The Greenville Area Transit (GREAT) bus system also has many stops around the city, offering affordable fares for a student's budget.
International Student Organization
---
The International Student Association (ISA) is open to all graduate and undergraduate students. Membership consists of international students completing degrees at ECU, those who are visiting ECU for only one or two semesters, as well as American students attending ECU who are interested in learning about their classmates from around the world.
Past activities and events of ISA have included trips to the Outer Banks of North Carolina, participation in Greenville International Festival, monthly cultural days celebrating one or two countries at a time, and ECU's World Fest Holiday Celebration.
The ECU Language Academy (ECULA) offers an exciting and innovative way for you to learn to speak and write proficiently in English. We prepare you specifically for university entry and give you the tools to become a successful student.
---
---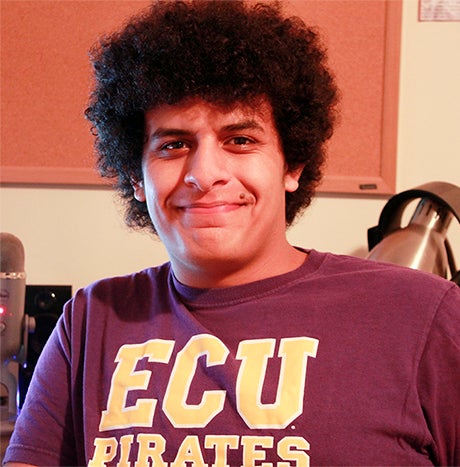 "Coming from so far away to America especially when you're alone can be difficult and scary at the same time. But knowing for sure that it was going to be awesome and safe, that was unexpected. I arrived alone from Saudi Arabia with no English, no friends and no connections. The ECULA program and ECU took care of all of it. They introduced me to other international friends and taught me everything. All I can say now is, ECU is my second home."
- Suleiman Al-khalifa, Saudi Arabia