Aliah – Switzerland, France & Italy – Global Fellow
Hello, everyone I just wanted to do a final reflection after being back in the U.S. for a couple of days now. I am experiencing really bad jetlag and keep waking up at either 1 or 3 in the morning, but tomorrow night I am just going to stay in bed until I fall back to sleep. I really miss traveling around and cannot wait for my Myrtle Beach trip. I think the thing I miss the most is walking around with friends and shopping. I also think I got a shopping addiction while I was there because whenever I am bored, the first thing I think of to do is go shopping. I guess I picked up the European way of shopping every day. However, I love that I can make my own food and don't have to go to a restaurant or Mcdonald's. That is something I forgot to mention is that going out to eat is seen more as a special event, so the waiters think you want to hang around there for about three hours, but I got to know my new friends a little more when this happened. You also have to pay for your water in restaurants, but if you say tap water you can get it for free. I learned so much about global healthcare and want to somehow apply it to my career. If you are unsure or scared about going to study abroad I want to tell you take a chance and go for it. My study abroad trip has been one of the most exciting and thought-provoking experiences I have had so far and hope everyone gets the chance to travel to a new country or two as well. Bon voyage.  
We traveled to Stresa, Italy, the day before, and it was a beautiful place. Our hotel was across from a park, so I saw locals running, playing soccer, and walking their dogs throughout my stay there. A lot of people own motorbikes here.  We were also close to the shore, where a boat picked us up and took us to three islands. One was called Isola Bella, and it had Palazzo Borromeo. This building was where the Borromeo family went on holiday. It had beautiful paintings throughout, but one of the rooms was called "The Gallery of Paintings" and was a "treasure chamber" for the Borromeo family. Besides the building being filled with art and literature, it was also filled with history and a political agenda of certain eras. In the music room, there was a Stresa Conference where different leaders came together to talk about Germany violating the Treaty of Versailles. One of the coolest things I found out about the place is that Diana, Princess of Wales, spent some time in "the ballroom" in 1984 when it was furnished as a dining room. We also went shopping there and where you can get pasta to cook and buy beautiful bags. My friends and I loved getting gelato! Once, we got the delicious ice cream like dessert three times in one day. 
On Saturday, we travel by train to Zermatt, Switzerland. In Zermatt, you are not really allowed to have cars, so everyone was pretty active on their feet while we were there. We went to McDonald's for lunch, and I had a side Caesar salad. I wish the U.S. McDonald's had an option of a side salad. They usually change the menu because of local traditions, so I guess in Europe, they traditionally choose to eat more side salads than French fries than we do. Lastly, they have a lot of beautiful water fountains up on the side of the mountain. Free water must be one of the ways they encourage the people who live there to drink more water than other possible sugary beverages.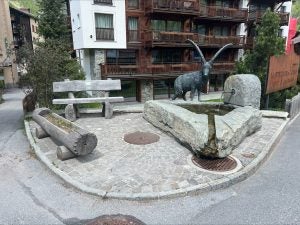 On Sunday, we found out there were a lot of physical activities you can do in Zermatt. We went on a two-hour hike and walked more than 20,000 steps that day. It was really fun hiking with the new friends that I have made. If I had access to that hill, I would go on a mini hike every day with a group of friends. However, while we were hiking, we were thinking how fun it would be to ski down this hill instead of walking because that is another activity offered in Zermatt, but we unfortunately did not have time to do that this trip.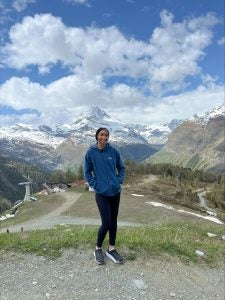 Then on Monday, I found myself with two other study-abroad classmates going up the hill via train to paraglide for the first time over the Swiss Alps. We went through safety instructions and met our tandem glide instructors. I quickly found out that I was very susceptible to motion sickness. We all had either very close calls or actually physical expressions of motion sickness during our flight. Despite this, I am very glad that I took a chance and experienced a new activity, and the views were amazing. Some people even went zip-lining while in Zermatt. Lastly, I would also like to mention that in Zermatt the breakfast they serve our group was similar to when I was in Geneva where their breakfast looks healthy and straightforward. They have meat, dairy products (cheese and yogurt), pastries, and fruits. I live in a small town, so I was more comfortable in Zermatt because it was less crowded, and I loved being surrounded by nature. The souvenirs were also cheaper there, so I got some really good chocolate and pens for my family and friends back home.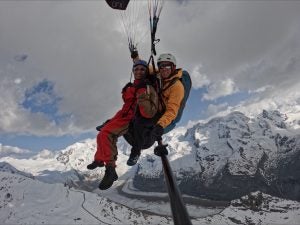 On our second day, May 23, 2023, we woke up in a really nice hotel that included breakfast. They served pastries, like croissants, fruit, deli meat, and dairy products (i.e. yogurt, milk, and cheese). The pineapple yogurt was delicious. We had to be ready by 8 am today instead of 9 am because of an event hosted by Global Alliance for Improved Nutrition (GAIN). The theme of the event was about joining forces to improve adolescent nutrition. Everyone in our group loved the event because the speakers made us feel empowered, They said that young people are the future and that we do hold the power, the power to make real change in the lives of others, especially adolescents. We also went to the Red Cross Museum and learned how the Red Cross supported and prevented human suffering as much as possible during wars and emergencies for all individuals. It is a neutral agency like Switzerland itself. For example, one of my favorite sections was where you walk through chains to enter a room where the Red Cross organization kept records of people so that their families can find them. One part of this exhibit showed pictures of children because some children did not know their addresses or family members' names, so Red Cross posted their photographs so the family could find them. That part of the exhibit left me astonished. I was impressed to learn about an  organization that  tried so hard to keep the world stable when it fell apart because of the wars.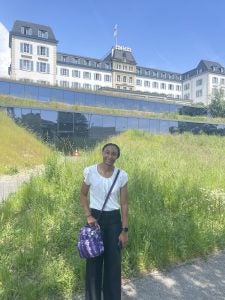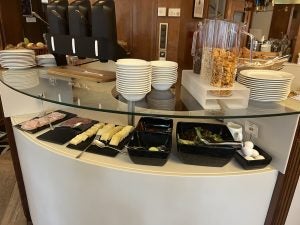 After the museum, we got lunch before our next event, the United Nations Development Programme, but ended up getting lost for more than an hour on the public transportation bus, so we missed the event. Most of us were not in high spirits after that, especially since it was a hot day, but I eventually laughed with my friends about how lost we got (we were going the opposite way) and how we kept trying to ask people for directions, but no one spoke English. I also learned that even your "bad" memories can turn into good memories while studying abroad, especially when you are no longer jetlagged (it was still our second day).You will make good memories too This was really just our luck because most people we met spoke English and French, but just when we needed directions, no one around could. Next time I leave to visit another country,  I am going to try to learn more of the official language. However, we ended on a good note that day by eating at an Italian restaurant that had really nice waiters.  
After four days in Geneva, on May 26th, 2023, we took a day trip to Annecy, France, by train. It was a small, beautiful town. We all took a lot of pictures and shopped around. The shops vary from selling clothes, jewelry to pottery and art pieces. However, the only thing I brought was refreshing gelato that really helped me cool down since it was really hot that day. We then went paddle boating the water was pretty clear, which was surprising since it was just a lake in the park. This was also the case in Geneva. I wonder how their lakes are clearer and cleaner than they are in America. They also both had more sidewalks available and more biking lanes.  We saw a lot of people biking to work in Geneva. Even though we spent most of the day in this town, we never got bored or tired of exploring. We had so much fun we lost take of time and had to rush to make it on the train in time.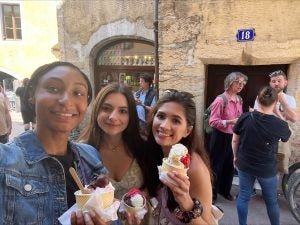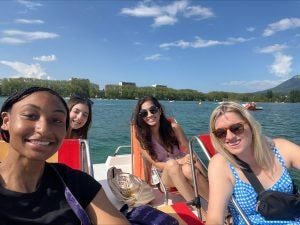 Hello everyone, my name is Aliah Spencer. My major is Health Information Management and a minor in public health. One of my goals has always been to participate in a study aboard program, specifically one that focused and had a curriculum related to my field of study. So, when I received an email about a program called ECU GLOBAL HEALTH STUDY ABROAD that will take place in Switzerland, France and Italy I was immediately interested. It included information about the course as well, HLTH 4800 Field Study in International Heath, which counts for 6 credit hours (so make sure you read all the study aboard emails you never know how much of an advantage it is).  
The pre-departure seminars made me even more excited because we learned more about where site visits will take place like WHO Headquarters and Red Cross Museum. We will also do boat excursions together and swim in Lake Geneva. However, I will also have plenty of time to explore "on my own" (with one of the other 29 students because I will be in a foreign country, and I don't want to get lost) and go visit other excursions and SHOPPING. Although I am a chronic over-packer so I will update you at the end how that works out as well when I do my last blog about what I learned at the end of this program. I am just really excited to go and explore and learn. Thank you so much for reading my blog.