Michelle – France
The gift of Paris
It was a dream of a week to be in Paris. I fell in love over and over again. With the city, with my chosen field of library science, with the group I traveled with, even with my past self – that college girl that studied art history, that younger woman who never made time for Paris – and my present self – the one that said, "So I'm doing this."– and my future self – the one who is taking everything Paris has given and doing something with it.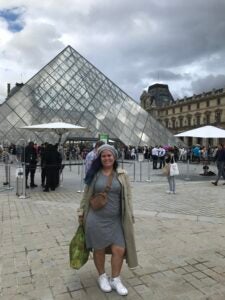 For me, Paris was a reset. A chance to change my pace of life and marvel at things simple yet exquisite. A rose in the Rodin garden, a financier (as delicious as Odile said in The Paris Library), the breeze off the Seine, sitting on a step to chat about life with the sweet taste of macarons still lingering, a delicious basket of strawberries from the market down the street, split in a hotel lobby with new friends. Home looks different but I am taking the time to enjoy what is simple and exquisite here.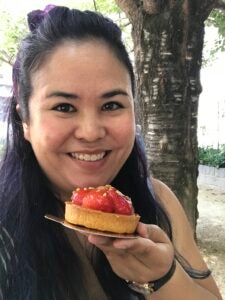 Visiting Paris was also a chance to see that librarianship is a calling that is made up of some of the most noble, caring, intelligent, and generous people, and also some of the most fun. At every library my group visited, we met with one to three librarians that made unlimited time in their day to give us thorough tours, answer all of our questions, and constantly check in if we needed even more, all while apologizing for their (actually wonderful) English. I hope I can return the favor one day.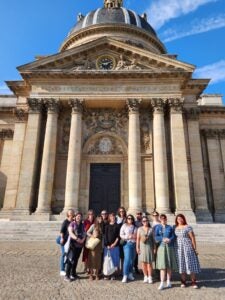 If you've ever wanted to travel, studying abroad with a well-traveled and knowledgeable professor is a fantastic way to do it. Dr. Marson not only introduced our group to many librarians and their unique libraries, but she also so helpfully arranged for things like the hotel, shuttles to and from the airport, metro passes, and welcome and farewell dinners. She was always available to answer questions. I was also with a fun and compassionate group of like-minded people, all of us studying library science, and we could relate to each other on a variety of levels, whether it was about libraries, serving our communities, trying new food, or touring the city. If I have one piece of advice to give, it's that you should embrace an opportunity like studying abroad! Apply to join a program, and apply for scholarships, too! (One of my fellow travelers was also a recipient of the Thomas W. Rivers Foreign Exchange Scholarship – hi, Allison!)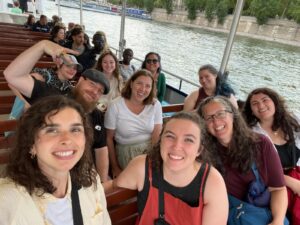 I have already taken little bits and pieces from my time abroad and shared it with my coworkers in the public and academic libraries I work at, like seating options, the special cases that extremely rare books live in, the huge amount of graphic novels at each library visited in Paris. If there's one big idea to share, though, it's that all of the libraries we visited are focusing on libraries as a third place, rethinking how people will work, study, and live to give them the best resources and physical space, but further than that, how to be accommodating and welcoming to everybody, not just those that can pay for a library card. It is something we constantly talk about here in the U.S., too, and some are better at it than others, which is why the exchange of ideas is so important, so we can continue to move forward together. I will also do my part in moving forward by joining the International Federation of Library Associations and Institutions, in order to continue to share ideas and engage with librarians around the world.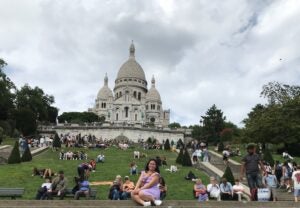 I have no doubt that I will be back in Paris one day. I did not take my children on this trip and they have to experience this place. I did not visit the gravesite of Lafayette (my daughter's request). I did not ascend the Arc de Triomphe. I was not nearly close enough to the twinkling lights of the Eiffel Tower. And writing about it makes me too nostalgic because Paris was a gift… magic…love.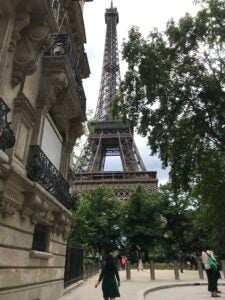 The magic you will find
On Tuesday, I swore my trip seemed like it would last forever, but as Wednesday dawned, I suddenly became aware of how little time I had left in Paris…
My group started the day at the Bibliothèque Mazarine, and entered what turned out to be the most beautiful library from our trip. Opened in 1643, it was one of a few elite libraries open to scholars at that time with over 25,000 volumes in its collection (two others being in Italy, and one being in Oxford, UK, which I was heavily reminded of while touring). Mazarine was a wealthy and generous benefactor, who wanted young people to come to Paris for an education, and within the college he built, essentially created a small town, including a library. If one was not reminded of Oxford, one might be reminded of Versailles, as the same architect who built Mazarine's college also built the palace of kings. We not only got to look at some rare books, but also enjoyed the floor to ceiling shelving, balconies, ladders, card catalogs, and hidden doors made of fake books that led to secret staircases. (We could not stop ooh-ing and aah-ing over this.)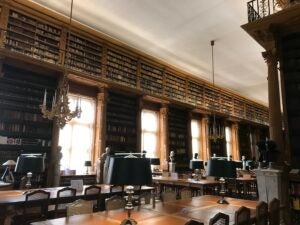 The American University in Paris Library, in contrast, is smaller and more modern, and a wonderful example of staying on top of weeding physical books and expanding on ebooks in order to give students the most resources and space for their studies. Another day, we visited the Médiathèque Françoise Sagan, a public library focused on its community and especially children's literature. Their thoughtful layout, signage, services, and staff, as well as their impressive heritage collection made for a fun and educational trip. They seemingly have everything, including a fluffy, friendly library cat named Chloe, to aid with rodent infestations. The library at the Centre Culturel Irlandais is broken up into three parts–modern media, their old library, and historical archives–and it was interesting to hear about the cultural center's general support and activities to promote Irish culture and art, and the library's role specifically. Finally, the tour of Bibliothèque Universitaire Paris 8 was a wonderful lesson in library organization, soft seating, support for students, and accessibility for those with a visual impairment.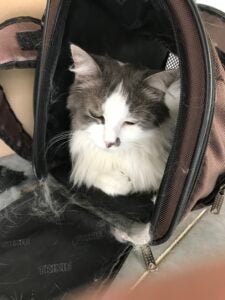 As the library activities ramped up, the tourist activities slowed down a bit (but only a bit). A good portion of our group went on a creepy walking tour–an excellent way to tour a city at night, as long as you don't run into any ghosts or rats (I only saw one neon one, pictured below, and a lot of taxidermied ones, which, since I love rats, was pretty terrible). The tour mostly centered around Henry IV, so it was also a fun history lesson on France that I otherwise would not have learned about on my own. We ended the evening by watching the lit-up Eiffel Tower at the top of the hour take on an even more beautiful look: twinkling lights! I was once again surprised at my reaction of awe–I sincerely originally thought, It's just lights, what's the big deal? But it felt like I was watching the most beautiful girl in her most sparkly dress, dancing for all of Paris, and truly I loved her.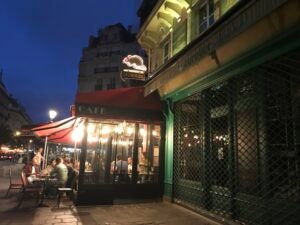 If the Eiffel Tower was in a sparkly dress, the Sainte-Chapelle is wearing all of the jewels. Starting out in the Lower Chapel, I did not understand why this was such a heavily-visited church and tourist site. After a walk up a narrow winding stone staircase, though, I gasped at the 13th century stained glass that surrounded a hall of worship. The beautiful reds, blues, greens, and more on the fifteen tall windows depict moments from Christendom, and though some of the specific scenes the audio tour talked about were difficult to see, this is a site that could be visited again and again with something new to appreciate each time.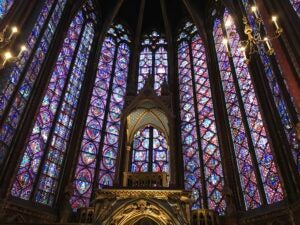 Speaking of revisiting, after shopping and lunch with friends, I returned to the Louvre. On my first visit, I had seen some of the greatest hits–not only Winged Victory, but the Mona Lisa and the Venus de Milo, the Sleeping Hermaphroditus and the Sarcophagus of Spouses, so on my second visit, I spent a more leisurely time roaming amongst the sculptures, and found a new favorite, Zephyr Carrying Off Psyche. The marble has been worked to such thinness that it is transparent in some places, and is masterful in how it represents motion, life, and love. I could visit the Louvre every day of my life.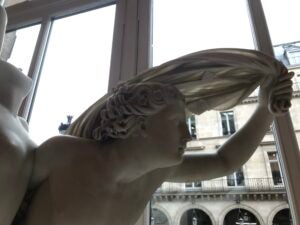 After my second Louvre visit, I rushed back to the Latin Quarter for one last time to have dinner with my group. Over wine and escargot, we recounted our adventures. Stay tuned for final thoughts from me and PeeDee….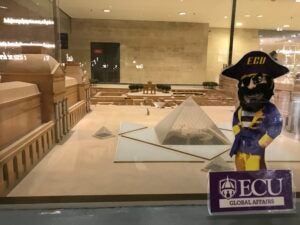 It's the City of Love for a reason
Confession time, here's what I got: I never thought I would love Paris.
I am the very fortunate person who has been able to travel more than most. I've been to North America's most well-known cities, and some not so well-known, as well as a few places internationally. I have some favorites, but if I had to choose one of those places to move to, I would shrug and say, "I'm never leaving home."
But, y'all, the way I would pick up and move to Paris!
The food and the fashion, the art and the architecture, and general vibe–nothing can compare to Paris. I started out my trip in Montemarte for a pastry and chocolate walking tour, and between bites of French eclairs, salted butter caramel macarons, and chouquettes, all made that day in local shops, I swooned. Taking in the views from the steps at Sacre Coeur sealed the deal–J'adore Paris.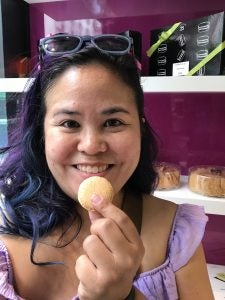 The next day was a whirlwind of art, starting at the Louvre, where I did gasp at first seeing Winged Victory, and on to the Musée d'Orsay, where I had a delicious hot chocolate in the most charming cafe between strolling through the work of the greatest Impressionists. I hugged a total stranger (we took pictures for each other, see below!), and thought about how nice everybody is, and incredibly charming and patient.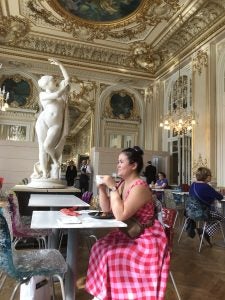 I left on cloud nine, and ran smack into the Tour de France. Literally crossed a bridge and the front runners (cyclists, I guess), zipped on by for the first circuit. I moseyed on toward the Place de la Concorde, just thinking, Oh, well I can't see the race too well, so I guess I'll go see that obelisk, but it was blocked off, but there were chairs! I plopped down and gasped for the second time that day when I realized I was able to see the Eiffel Tower. And that I was pretty near the head of the Champs-Élysées, the road the cyclists were going down, going around the Arc de Triomphe, and zipping back up the Champs-Élysées to continue the race. What is this life?, I wondered, as I enjoyed the breeze, the hum of French chatter surrounding me, and then watched the clouds literally open up to let the sunshine through as the cyclists crossed the finish line.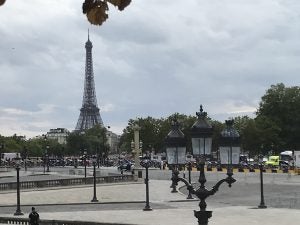 What else does Paris have to offer? What can top any of that? Libraries! The group I'm with have so far toured four libraries, each so impressive in their own unique way, with the most entertaining, informative, and passionate librarians. Though I was not prepared to love Paris, I am always prepared to love libraries! The Bibliothèque de la Cinémathèque française had the most fascinating archive, even if you are unfamiliar with French cinema. Le Centre Pompidou's Bibliothèque publique d'information is a wonderful example of service and accessibility in how they offer so much to the public for free (and the Pompidou building is amazing). The Bibliothèque Francois Mitterand is the national library of France. I don't know if I've seen a more stunning and just huge library, and our stellar tour guide was full of fascinating stories. The American Library in Paris was cozy in comparison, but so full of charm and goodwill, a true example of library as a third place.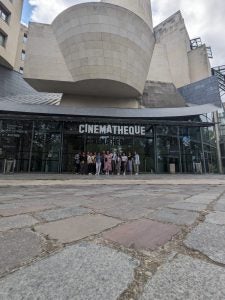 Between and after these visits, with my heart and mind full (and okay, my feet and back aching), I have been able to get in more sightseeing. I walked past the Notre Dame Cathedral, taking in their outdoor exhibit, which gave me goosebumps, explaining the damage and the awesome work that has been done to restore the cathedral. It's expected to reopen in December of 2024. I also got some books stamped at Shakespeare and Company, the most atmospheric bookstore I might ever have the pleasure of visiting. I was also lucky enough to visit the Musée Rodin. The gardens were absolutely gorgeous, and I was able to see The Kiss, easily the most romantic work of art (I gasped yet again). The day ended with a cruise along the Seine and dinner with new friends.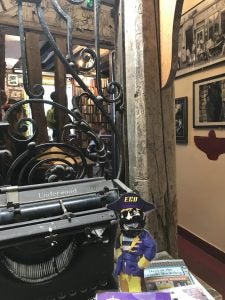 Could I love Paris anymore? We'll see what other adventures crop up….
One thing to know about me–I go all in with whatever I'm doing. So when it comes to school, I want to talk to as many professors as I can, do all of the reading, meet as many students as possible (even though we are in an online, asynchronous program in Library Science!), and apply for every scholarship and extra program that is offered by ECU and the outside library world.
It means that the last two years of grad school have been hectic, but packed with so much knowledge and so many precious experiences that I very sincerely hoped for when I started my time at ECU, but did not think was all possible. I intend to end things with a bang by participating in a study abroad experience in Paris, France, studying Library Partnerships in a Global Context. I am incredibly grateful to my many communities for their support, and I especially want to thank The Thomas W. Rivers Foreign Exchange Scholarship for supporting me in this exciting opportunity.
What have I done to prepare for this week in Paris? My classmates and I have done readings and discussions talking about the education and careers of librarians in France, and studied the goals, structures, and practicalities of academic and public libraries in France. We are prepared with our surprised reactions, comparisons to our libraries in the U.S., and questions to share with the librarians we will meet in Paris at nine libraries we will tour throughout the city. I plan to focus especially on the accessibility for people with disabilities–how are Paris libraries different from the libraries I typically see in the United States, what can we learn from each other, what are some solutions I can take back home with me?
What else have I done to prepare? I scoured multiple resources (hello, I am a future librarian) to find out what I should do in Paris in the whirlwind of a week I will be there. I eventually decided not to visit Versailles (though multiple people said it's a must-see) or the Château de Chambord (which inspired the castle in Beauty and the Beast, y'all, and yes, my 90s Girl heart is broken about it). I also decided against Normandy, though this was a tough decision, too. I arrive on a Saturday morning, when I will be jet-lagged but wandering Paris, and I have one full day Sunday (when I will probably still be jet-lagged, honestly), and leaving the city means using up that entire Sunday. So instead, on that Sunday and in between library visits (many thanks to Dr. Marson who not only has organized a stellar trip but also sent us the many details so we could consider our in-between and evening plans), I have planned on: a chocolate and pastry walking tour; a run through the Louvre (it is a dream to see the Winged Victory of Samothrace); a more leisurely time at the Musée d'Orsay; buying a book at Shakespeare and Company Bookstore in the Latin Quarter; a Seine River cruise; visiting the jewelry box that is Sainte-Chapelle; a spooooooky walking tour (fun in any city when you want to plan something to do at night); and finally, strolling around the Tuileries Gardens, to the Place de la Concorde, and down the Champs-Élysées, to the Arc de Triomphe. The entire time I am sure I will be screaming in my head different variations of, "Paris!", "Paaaaaaris…", and, "Look at me. In Paris."
Finally, preparations include the practicalities of buying things like an international adapter and calling my bank (it was indeed me trying to buy tickets to the Louvre!). More ridiculously, as a person who loves clothes, yes, the only thought I have lately had when buying new clothes is, "Will I look cute in this in Paris?" And yes, I will pack my berets and wear them in a few photos, but I tell myself it isn't cliche because I wear these State-side, too. I will obviously have to pop into a few clothing shops, but I am genuinely more excited to eat. A friend has managed to teach me enough French that I can order, "One croissant, please!"
More seriously, I look forward to the many libraries our class will be able to visit. One of the ones I am most excited about is the American Library in Paris, which is the largest English-language lending library in continental Europe, and has undergone exciting changes in the last 15 years. Established in 1920, its motto speaks to the future librarian in me: After the darkness of war, the light of books. So off I go, to the City of Light, to study the light that is libraries. Au revoir, I'll see you in Paris!