Abby – Italy
Ciao readers!
I am so sorry for the really late update, I have been so busy recently with working and seeing loved ones, but I couldn't just leave y'all hanging! I have been back in America for almost two months, but before I get into my life here, let's talk about the last few days of my trip.
The final morning in Certaldo was definitely a sad one. I woke up that morning around 4:30 and I couldn't go back to sleep, so I decided to open my windows and watch my final sunrise in the most beautiful Tuscan town in the world. It was definitely an experience that I will never forget. It felt like I was the only person in the whole town. Everything was so quiet, and the sun was rising just for me to see. I am definitely really glad that I didn't try to go back to sleep and had that last moment of peace before the chaos of leaving began. When my alarm on my phone finally went off, I got ready for the day and packed up the rest of my belongings. I went down to Andrea's to get my very last breakfast. I had a yogurt, Nutella filled croissant from Jam Café (I miss them so much), and apple juice (which is so much better in Italy for some reason). After breakfast I said one final goodbye to my apartment, Costalgi, and headed down to the classroom to return my keys. Franchie, Giorgia, and Andrea were there to say goodbye to everyone. I have never been a huge crier but this day I was. The second I gave Franchie a hug I started to sob. I never thought that a place and a group of people could mean so much to me but there I was, saying goodbye to my favorite town in the entire world and its residents that I had grown to love. I said goodbye to Giorgia with tears in my eyes but hope that one day I would see her soon when I make it back to Certaldo. Finally, I said goodbye to Andrea, the goofy owner of the wine shop who hosted us for dinner majority of the nights that we were in Certaldo. Andrea wasn't great at learning names, but he had nicknamed me "president" during my time there. He gave me a big hug and said "ciao president" which made my cry even more. Living in this small town allowed me to interact with the locals and form relationships with them, relationships that I will always cherish. We began the walk to the bus where I wiped my tears, pulled my self together, and took one last look at the town that stole my heart. Certaldo will forever be one of my favorite places on earth, and it will always have a piece of my heart.
Venice was amazing. The first day we were there we just spent it walking around the area surrounding our hotel. It was a pretty calm day with not much going on, but it was by far the hottest day of the entire trip. The second day in Venice, me and my friends went to the town of Burano and Murano. They were only about a 45-minute boat ride from Venice and in my opinion definitely worth it. Burano is an island known for its bright colored buildings and for lace making. We went early in the morning, so we pretty much had the town completely to ourselves. It was very peaceful and so cool to see how each homeowner decided to paint their house uniquely. Murano is known for its glass blowing. It was cool to walk around and see all of the shops, but it was a lot busier since it was later in the day. Me and my roommates bought matching glass blown bracelets and I bought me and my best friend matching glass blown cows since they are our favorite animal. After visiting the islands, I was exhausted, so I went back to the hotel to rest for a little bit. The third day was unfortunately our last day. We started off the day with a tour of Basilica di San Marco with two tour guides that were born and raised in Venice. They told us about the history of the Basilica and St. Mark's Square. They also took us on a tour of Venice and told us about the history lot of different places in the city. After the tour, me and my friends took one of the boats out to the cemetery island. It sounds super creepy, but it was so cool to see how the people are buried there, some are even stacked on top of each other. After, we all went to get our last gelato in Italy. It was such a bittersweet moment (the whole last week of our trip was bittersweet) filled with both laughter and sadness. I got hazelnut and coffee, which were my two go to flavors the whole time I was in Italy. After that we headed to our last dinner. Me and all of my friends got to sit at a big table together. I ordered the carbonara, which was definitely my favorite food in Italy. It was so nice to have one last meal with everyone (except for Kerianne, Mary Beth, and Emily who unfortunately made their exits early since their parents came over for the end of the trip). Another bittersweet moment. After dinner, we walked back to the hotel rather than taking the boat so we could enjoy Venice at night. It was so beautiful. Me, Katie, and Erica headed up to our rooms after our walk to pack up the rest of our things and go to bed since we had to wake up early. Venice was definitely one of my favorite places.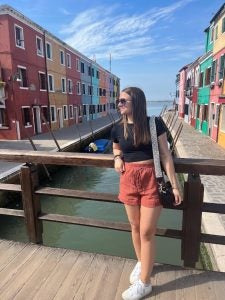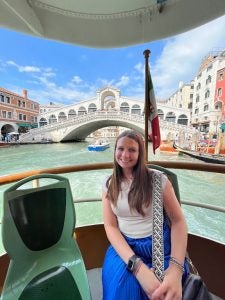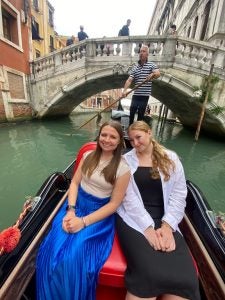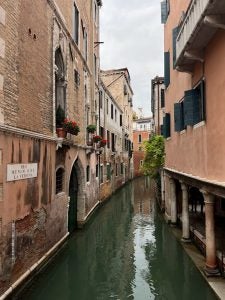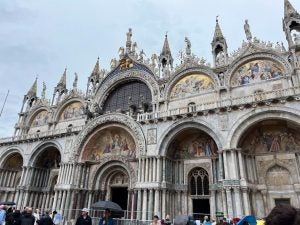 The day had finally come. It was the day that I was going to say goodbye to the country that had become home and go back to the United States. I was sad to leave Italy, but I knew that one day I would go back and see all the places that I fell in love with when I was 19 years old. We made the journey to the airport and said our goodbyes to our friends, and all went our separate ways to our gates. It was sad saying goodbye to some of my best friends, who three months ago were complete strangers to me. By the time I got to my gate, I was so ready to be home. It was a long day of traveling (23 hours to be exact) but it was all worth it to see my family and friends. It was so nice to be able to hug them after a long three months without them. It was hard to go that long without seeing them, but everyone was so supportive of me so that definitely made it a lot easier. Not only was I greeted by everyone's smiling faces, but I was also greeted with a delicious Chipotle bowl, my all-time favorite food. I was so happy to finally be back with my people and to be able to share my last three months with them.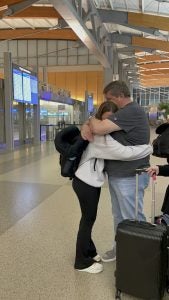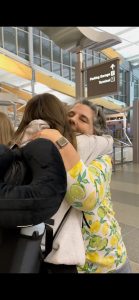 Since coming home, my time has been filled with visiting friends and family, working, and going to the beach. It is really nice to get back into my normal routine at home. Italy with forever have an impact on my life. It is by far the best decision I could have ever made. It broadened my perspective on the world, allowed me to meet new people, gain new experiences, and strengthened my love for traveling. If you are thinking about studying abroad, just do it. It is a once in a lifetime experience that you do not want to miss. The ECU Tuscany program is absolutely amazing. I would recommend it to anyone a thousand times over. I am so grateful for my experiences and all of the places that I was able to go to. Where will YOU go?
Thank you so much for following along on my journey, it means more than you will ever know!
Ciao!
Abby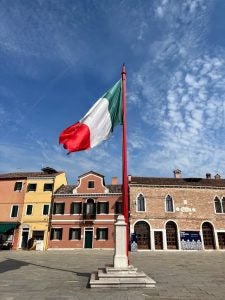 Ciao Ciao!
Unfortunately, this is my final blog post from Italy. I know, I am sad too! But…I am so excited to be able to share the last part of my trip with you guys!
Let's start with academics! We had our last week of classes filled with final lectures and finishing up final projects. We had our finals week which not going to lie was kind of stressful, but we got through it! I finished this semester with all A's and a 4.0 GPA! I am extremely proud of myself and how hard I worked. It is easy to get distracted from school while you are studying abroad, but our teachers did such of good job of keeping us engaged in classes and making them interesting so that we wanted to learn! We also had our final critique in our book arts class where we got to present all of our projects in front of our class and explain each of them. It was so cool to be able to see everyone's thought processes and why they made their specific projects. I was able to share my final project, which is 12 stitched books for all the different places I've been and a bookshelf to put them in. I originally made 10, but during my critique, Linda told me that I should make two more for Cinque Terre and Venice, so I had just print out pictures and glue them in when I get home. My final project turned out even better than I expected it to. I love it so much and it is such an amazing to not only remember my trip but to also share it with family and friends!
We had one of our last trips the weekend after Lucca. We first went to Volterra which is a small Tuscan town famous for its alabaster. We got to see one of the local shop owners make a bowl out of alabaster, and then we all bought something from his shop! It is really cool to see someone create something that they are passionate about. We then had the next two hours free, so me, Katie, and Erica walked around and did some shopping. We got some souvenirs and then we went to this really cool pepper store where I bought a spice and a hot sauce. I am really excited to try them when I get home. We grabbed a quick lunch and then made our way back to the bus. We got there a little early so while we waited for the bus, we looked out over the Tuscan countryside, admiring the beautiful region that we have been fortunate enough to call home the past 3 months.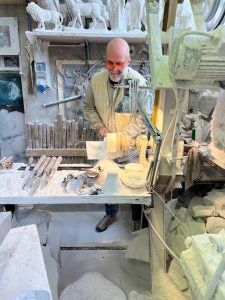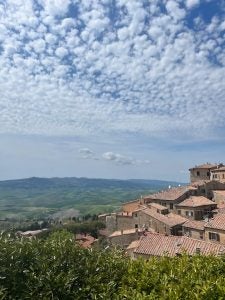 We then boarded the bus and drove to San Gimignano, a famous Tuscan town, known for its tall towers that you can see from miles away (fun fact: I can see them from my bedroom window in Certaldo). When we got there, we tried the world's most famous gelato (it was really good, I 100% understand why they win the competition every year) and then went to the cathedral. It was very beautiful and cool to see a smaller cathedral, unlike the massive ones we have been seeing in Florence and Rome. We then climbed the tower that was next door and got to see Certaldo from the top! It was so cool to see our beautiful little town from so far away. After that, we did some more souvenir shopping! I have gotten a postcard from every single place that I visited, so I had to get one in San Gimignano. We then headed to the bus for our very last ride through the Tuscan countryside.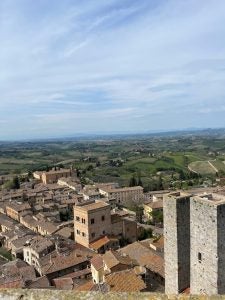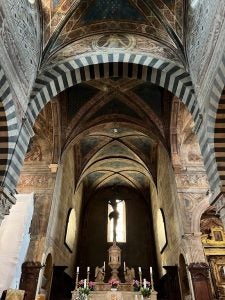 The entire drive to our next destination, I stared out the window. I think this was really the moment when I realized how little time I had left in Italy. I had fallen in love with not only Italy, but also the beauty of Tuscany. It is unlike any other place in the entire world. It is just perfect in every way, and I am going to be heartbroken when I have to leave. Our next destination was Fattoria Poggio Alloro, a family-owned farm between Certaldo and San Gimignano. It was such a beautiful farm, and one of the workers was nice enough to give us a tour. We got to see the wine cellars and she explained to us how they make their wine. We then went to the vineyards, and she talked to us about Vernaccia, which is a wine that is only made in San Gimignano because of the very specific type of soil that they have. It is now my favorite wine, but Orvieto Classico is a very close second. We then went to go see the cows, which definitely has to be my favorite part because cows are my favorite animal. We got to pet them, feed them, and take pictures with them! This is one of my favorite memories of the entire trip! After we saw the cows, we went to go get washed up and got ready for dinner! We had lots of appetizers, got to taste their wines, and had steak (rip cow). One thing that I will not miss about Italy is how they cook their steaks. I prefer my steak medium, let's just say that the steak came out still mooing. After dinner, we went to the book shop, and I bought a bottle of my new favorite wine and a book about the farm and their family recipes!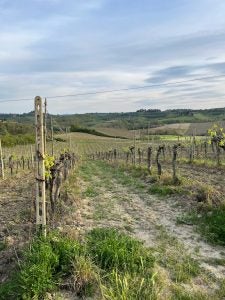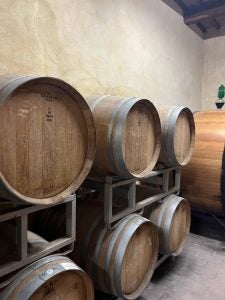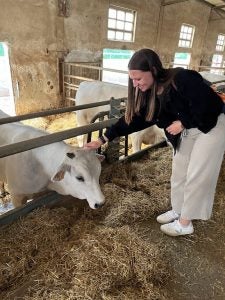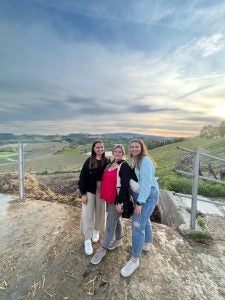 After our day trip to San Gimignano, we had finals week. After finals week, we took a trip to Cinque Terre (which means five lands). We woke up early in the morning to catch a 7:00 train and got to the town of Monterosso, the fifth town, around 11:00. It was raining so we spent the day just exploring the town and doing some shopping. The next day, me, Erica, and Katie woke up at 5:30 to hike from the fourth town, Vernazza, to Monterosso. It was raining to the trail was slippery and unfortunately, I fell on one of the steps (I'm okay though, it was kind of funny). The views made up for how hard the hike was though, it was so beautiful because we were so high up on the mountain. After the hike, we got ready for the day to explore 2 of the other towns, Riomaggiore and Manarola. They were both really pretty and had beautiful views. After exploring the towns, we went back to the hotel and got ready for a boat tour that we were going on for one of our friend's birthday's! It was really cool because we were able to see all of the towns from the water, a view that not a lot of people get to see! It was definitely one of the coolest things that I have done so far. The next day we decided to have a chill day and spend it on the beach because the weather was beautiful. It was so nice to be able to spend one of my last days here just hanging out with my friends. Some of my favorite memories are the ones where we are just hanging out and creating relationships that will last a lifetime.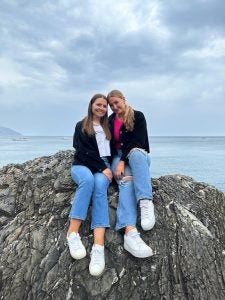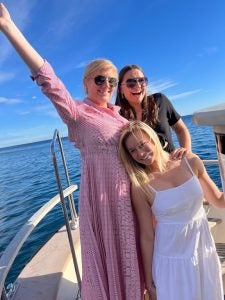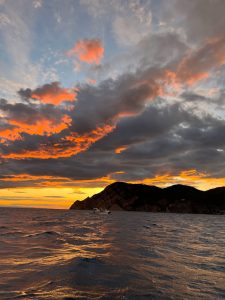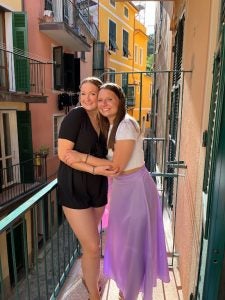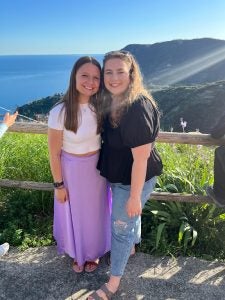 The next day, we packed up all of our stuff and headed back to Certaldo to prepare for our exhibition. It was sad because it was our last train ride. The train system in Italy is amazing and can take you literally anywhere you want to go. I wish we had something like it in America. When we got back, I started to do some packing and then I got ready for the exhibition. The exhibition is held in the classroom, and we set it up like an art gallery to show all of the people of Certaldo what we have been working on this semester. It was really nice to see how much all of the people that we have interacted with come and show how much they care about and enjoy our presence in the town. My final project got its own pedestal, and I loved how every time I walked past it there was someone new flipping through my books and seeing all of the memories that I made while I was here. We had dinner and interacted with everyone until the exhibition was over and a few of us hung out in the classroom for a little bit longer. It was definitely a bittersweet moment. I don't think I have realized that I am actually leaving yet, and I don't think I will until I am boarding my plane in Venice.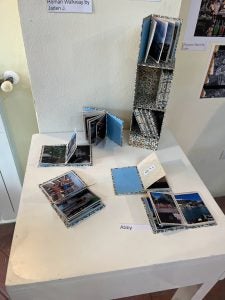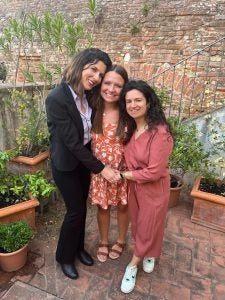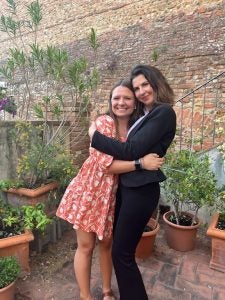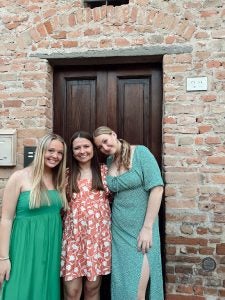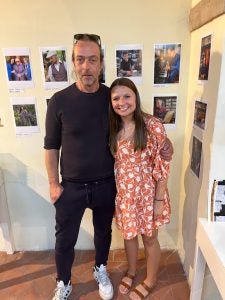 Now it is the morning of my last day in Certaldo. It is going to be filled with last minute packing, cleaning, and goodbyes. Tomorrow morning, we are off to Venice and then off to America. I am not ready to leave this beautiful country, but I am ready to see my friends and family. I will post my very last update soon after I get home, but until then I am going to try to soak up every last moment.
Arrivederci!
Abby
Ciao everyone!!!
It has been a while since I last updated my blog, so I have a lot to tell you guys! Classes have been going great! We finished midterms last week and I did really good on both history and geology! Art history is always amazing, it is so much fun going to Florence and being able to see some of the world's most famous artwork. My favorite class by far would have to be my color and design class! I love how creative I am able to be in it and how it requires zero art experience. We have an assistant teacher, Francie, who helps us with all our projects. She taught us how to stitch books, which has become of my favorite things. So far, we have made two stitched books, an accordion book, a box, and we are now working on our final project. For my final project I am making ten small, stitched books, each will have different pictures for different places that we have been to. I am also making a bookshelf to put my books in. The cool thing about all of these projects is that we are able to go to Florence and go to the most beautiful paper stores and pick out the paper that we want to use. Everyone's projects are completely unique to them which is the coolest part. One of the books that I made; I spent extra time no it outside of class because I designed the whole thing myself. I wanted a stitched book with pockets in it to put my souvenirs like train tickets and postcards. There were no tutorials to create one, so I came up with my own design. I now love the book I made, and I am proud of how I came up with the idea all on my own. This is a perfect example of how creative you can be in this class.
Now that I have talked about my classes, let's get into the places that I have been since I last caught y'all up.
The first place we went to was Viareggio for Carnevale! It was probably one of the most memorable experiences that I have had here so far. Carnevale is very similar to Mardi Gras in America. There were many massive floats and we all bought masks to wear during the parade! It was so cool to fully immerse ourselves into this major part of Italian culture!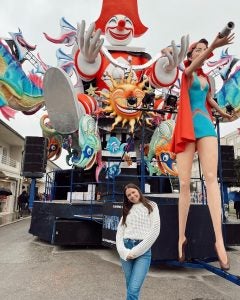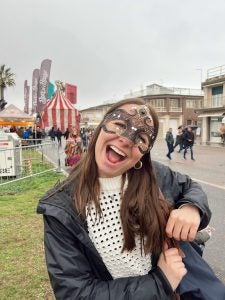 The next place we went to was Siena! Siena has to be one of my favorite places that we have been to. It is only a 30-minute train ride from Certaldo. We went into the Duomo, which was absolutely beautiful. We then got to climb the tower that is in the Duomo Museum that had the most amazing view of the city. After this, me and a few of my friends went to go get lunch in the city's main piazza. We found the cutest restaurant where we were able to sit outside and eat in the warm sunshine. This was the first warm day that we had since getting to Italy, so we wanted to enjoy every second. I got the Toscana pizza, and it is still by far the pizza I have had in Italy.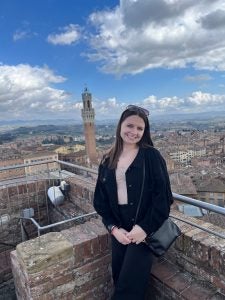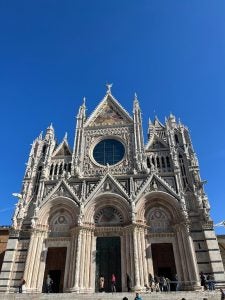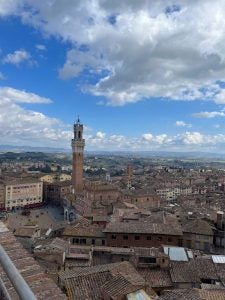 The following weekend we went to Pisa! It was a cool town with lots of restaurants, shopping, and obviously the tower. The tower was really cool, but everything felt super touristy unfortunately. I think that I would have a different opinion on this if I was studying in Florence, but I get such an authentic Italian experience in Certaldo that everything else feels touristy. I still took the basic tourist pictures though lol.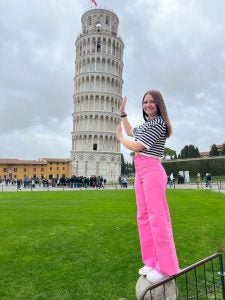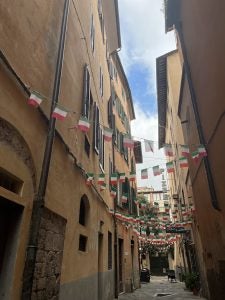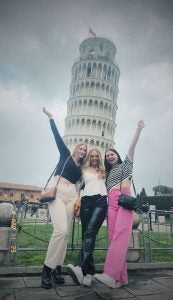 As you guys already know, we go to Florence once a week every week for our Art History class. To prepare for spring break, we had an overnight trip in Florence so that we could have 3 classes and wouldn't fall behind. We stayed in the best hostel ever and had such a fun time! We went to three different museums and hiked up to Piazza Michelangelo to watch the sunset! This was seriously the most breathtaking view of Florence that you cannot miss.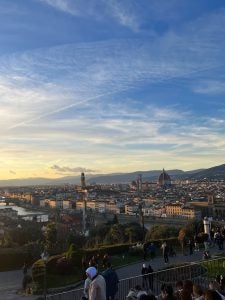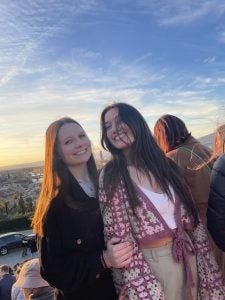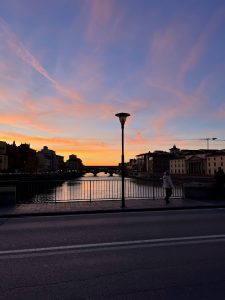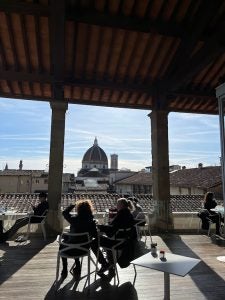 We had a long weekend in the middle of March, and my roommates and I took full advantage of it! We spent the weekend in Lake Como, and I am fully convinced that it is one of the most beautiful places in Northern Italy. We stayed at a hostel in Como and each day took the ferry to a different town on the lake. We went to Bellagio our first full day there which was beautiful, but pretty busy with tourists. We found the quiet streets to walk down to avoid them and saw some beautiful views. The second day we went to Varenna, which was by far my favorite town in Lake Como. There weren't as many tourists, and everyone there was so friendly. We went to a botanical garden at a hotel, and I got lots of pictures for a book I'm making in class about succulents in Italy. Every corner you turned in the garden, there was another amazing view. Overall, if Lake Como is not on your "must visit" list when you come to Italy, it needs to be.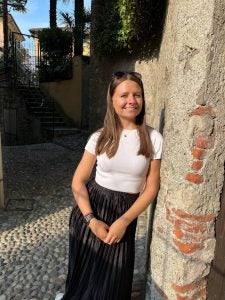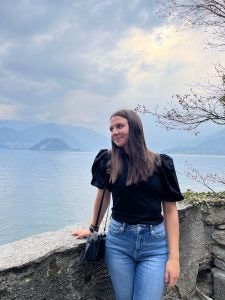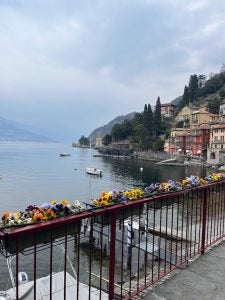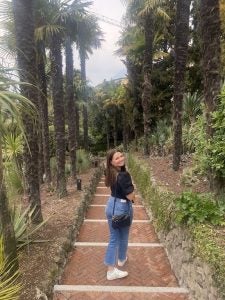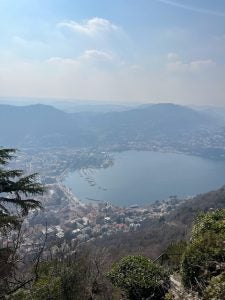 TIME FOR SPRING BREAK!!!! Our first stop of our 10-day break is Rome! We only had two days here, but they were jam packed! We had a super early morning to get to Rome by lunch time so that we could make it to our VATICAN TOUR. WHAT? I still can't believe that I went to the Vatican. It is such a surreal experience to be in such an important place to so many people around the world. The art in the museum was mesmerizing. There is one long corridor filled with paintings of maps of Italy! We got to point out Certaldo on the map which was so cool because it is such a small town! We got to see the Sistine Chapel and all I could say was "wow!" The fact that I was standing in the exact room where conclave is held, and the College of Cardinals elects the Pope. We also saw St. Peters Basilica, which is the largest church in the world. We only had 10 minutes to go inside unfortunately since multiple students (including me) had to rush back to the hotel to register for classes, but it was still amazing. My favorite movie is Angels and Demons which takes place at the Vatican, so I was in awe seeing the places that the movie was based off of. Now onto day 2 two in Rome. We woke up early in the morning to go to the Coliseum (pro tip: go to all of the touristy places earlier in the morning to try to beat the crowds) and the Roman Forum. Seeing Ancient Rome was so cool because I was able to put everything that I had been learning in class into perspective. We are very fortunate that we have such a good history teacher that was able to tell us about everything that we saw in the Forum and all of the history behind all of it. The rest of the day was a free day so me and my friends grabbed lunch and did some exploring. The next day, we were heading the Amalfi Coast, but I could not leave without visiting the Trevi Fountain. I woke up at 5:30 AM with one of the other girls on my trip to get to the fountain at 6:00 to be able to experience it in all of its glory without any crowds and I do not regret it one bit.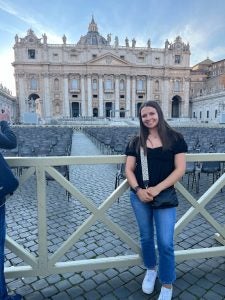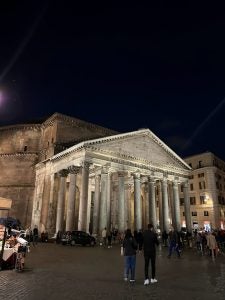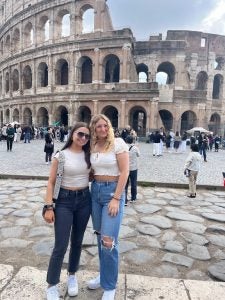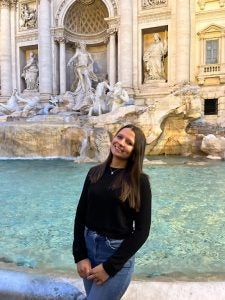 After that early wake up, I took a nap on the bus on the way to the Amalfi Coast. I'm not sure how, but I slept almost the entire bus ride from Rome to Vico Equense (which is the town that we stayed in) and I woke up to a view of Mt. Vesuvius. Childhood Abby would freak out because I was OBSESSED with volcanos, especially Mt. Vesuvius. Vico Equense was the most adorable town ever that was so authentic and unlike any of the other coastal towns because there were very little Americans. When we got there, we had a great lunch at a local restaurant, checked into our hotel, and walked down a STEEP hill to the beach and sat on the rocks to enjoy the waves and the sun. The next day we went to Pompeii which was so cool to see how the town was preserved. Our tour guide taught us about the Italian horn, which originated in Naples and brings you good luck if you are gifted one, so we all went and bought each other keychains of them! I'm not sure if it has brought me good luck, but I am living in Italy for 3 months, so my life is pretty great as is. After Pompeii we took the train to Sorrento to explore the town. The next day we piled onto a bus to head to Positano and the town of Amalfi. Positano was absolutely beautiful. I bought dresses at the cutest handmade dress store! Amalfi was also beautiful, and we took a boat from there to Salerno and then bussed back to Vico. It was such a fun day, but the worst part was how windy the roads were so a lot of people got carsick. I took some drowsy Dramamine and just knocked out. I am convinced that after this trip I will be able to fall asleep anywhere.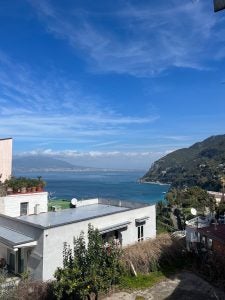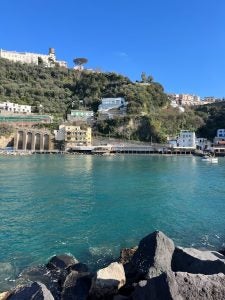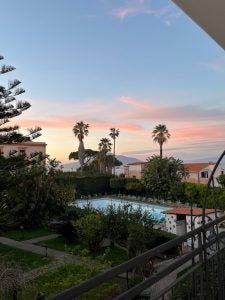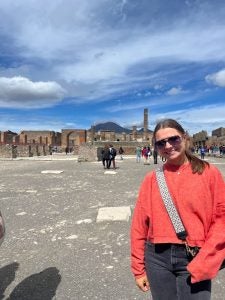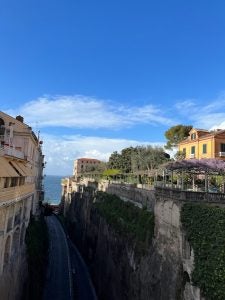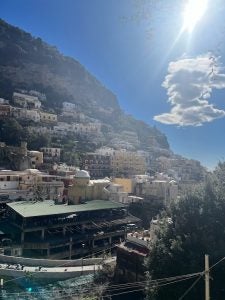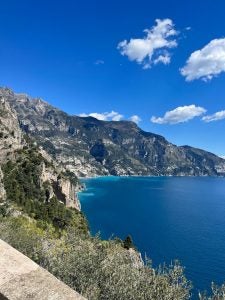 We had 5 days of independent travel after the Amalfi Coast, so me and 4 of my friends went to Barcelona, Spain! It was fairly easy navigating the airport and the flight was only 2 hours. Once we got to Barcelona, we easily got into the city on a shuttle and found out hostel. We were staying on Passeig de Gràcia, which is one of the most important streets in all of Barcelona. It was a great location and we felt so safe the entire time. We spent one of the days hopping on and off the metro to see all of the attractions that the city had to offer, and we spent the other two days on the beach! While studying abroad, I have realized that there is a big difference between traveling and vacationing. We decided that we wanted to vacation while in Barcelona because we needed a break from the constant go-go-go atmosphere that comes with studying abroad. Don't get me wrong, I LOVE how much we are able to travel, but at this point we were on day 7 of traveling and we needed a rest day, or two! It was nice to be able to relax and spend quality time with my friends! Our last night we went on a boat tour and spent two hours out on the water. It was a little chilly and I started to get seasick, but it was a memory that will last forever! Barcelona has to be one of my favorite places that I have been too, and I 100% want to go back one day.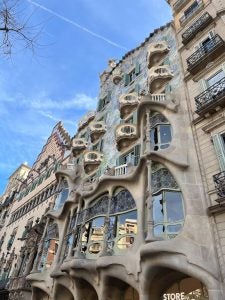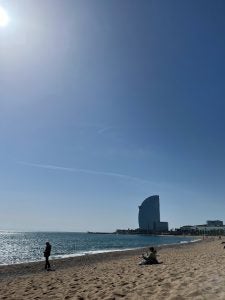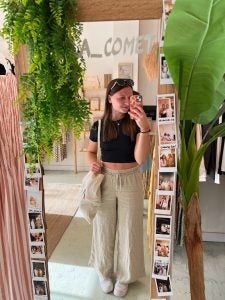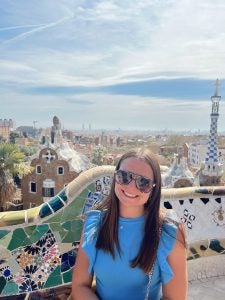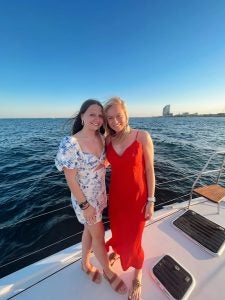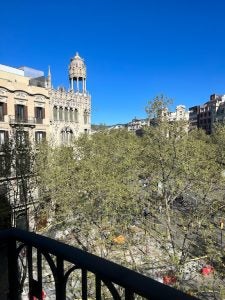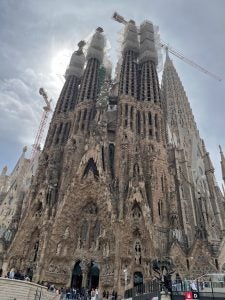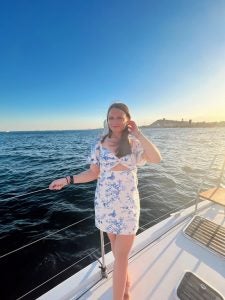 Finally, we went to Lucca for a class trip. It was only a two-day trip, but Linda made sure that it was packed full of activities. We started by going to the Ponte del Diavolo which is a medieval bridge. It was part of The Via Francigena, which is an ancient pilgrimage route from Canterbury, England to Rome, Italy. After that we went to the small town of Fornovolasco and just hung out by the river and watched all of the waterfalls. It was a cute town, but it was tiny and oddly enough we didn't run into a single person there. Next, we went to have a big lunch before going into the Grotta del Vento, which is a massive cave in the Apuane Alps. It was really cool, and we got to be able to see all of the stalactites and stalagmites which we have talked about in geology class. The cave is always 50 degrees Fahrenheit, and it is a wind cave so when they have the steel door in the cave open there is constant wind. I really liked the first half of the cave, until we came to the second half. It was when we had to start descending in the cave that I stopped enjoying my time and was terrified. It was 80 meters straight downwards and at a 70-degree decline on the most slippery and sketchy steps ever. My biggest fear was heights, so I was freaking out. I was gripping onto the railings with both hands at all times. Once we finally reached the end of the descent, I thought all was well. Boy was I wrong. The tour guide then proceeded to tell us how she was going to turn off all of the lights and show us what complete darkness looks like. When she turned them off, I could not see a single thing and there was no difference between my eyes closed and my eyes opened. I couldn't even see my hand moving in front of my face. I held onto my roommates the entire time and just waited patiently for the guide to turn the lights back on. No one else really seemed to be that bothered by this cave, I think I am just dramatic, but I did have to face two of my biggest fears with no warning, so I am proud of myself for not just shutting down and crying. After the cave, we got back on the bus and began our journey to Lucca. We got there around dinner time, so we check into our hotel (one of the nicest hotels I have ever been to) and walked down the street to dinner. After dinner, me and my roommates were exhausted, so we went back to the room and got ready for bed. The next morning, we had an amazing breakfast at the hotel and then Linda rented us bikes to ride around Lucca for an hour. It was such a cool experience! Some people got individual bikes, and some got 2 or 4 person bikes. Me, Katie, and Erica got a two-person bike, and all squeezed on it. It was fun but definitely harder than everyone else's because there was an extra person on the bike who was not peddling. After bikes, me and a few of my friends went and walked around Lucca before getting lunch. After lunch, I was so tired, so I caught the next train home with my friend Kerianne and spent the rest of the day relaxing at home in Certaldo.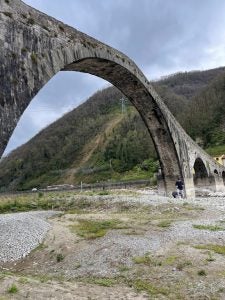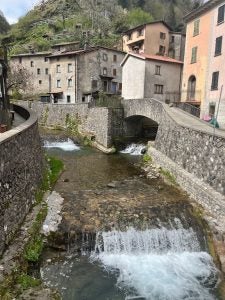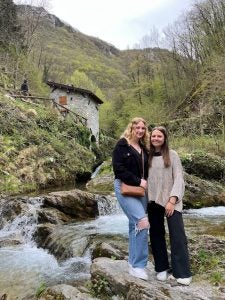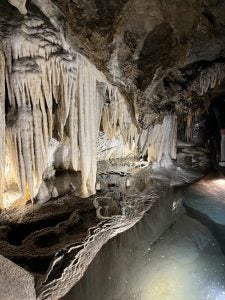 If you made it this far, I'm impressed. This was a very long update, but I guess that is what happens when you get super busy. I will try my hardest to post one more time before I leave Italy! We only have 3 more weeks left and finals week is next week so I'm not sure how easy that is going to be, but if I don't, I am definitely posting when I get back to the States! I hope you guys enjoy this post!
Ciao!
Abby
Ciao everyone!
I have been in Italy for a little over one week and I am so excited to tell you all about it! I flew from RDU to JFK and then JFK to FCO, which is the airport on the outskirts of Rome. The flight to Italy was overnight, so it didn't feel as long as it actually was because I was "sleeping" for majority of it. I'm not sure how much sleep I actually got, but I'm sure it wasn't a lot. One good thing about that flight is I got to sit next to another ECU Tuscany student, Luke, who I have actually known since I was 2 years old! After we landed, we put our big suitcases on a bus to go to Certaldo and we hopped on another bus to head to Orvieto!
We arrived in Orvieto around noon on Valentine's Day. We checked into our hotel, which was amazing, and immediately went to go grab lunch because we were starving. The jet lag was really starting to hit at this point, and I was exhausted. After lunch, our director, Linda, let us go explore the town. Orvieto is a small town on the top of a hill, kind of like Certaldo Alto, but a decent amount bigger. I walked around with a few people from my group just looking at the buildings and the pretty views. After we thought we had seen everything there was to be seen, we came across the Duomo di Orvieto. The duomo was unlike anything I had ever seen before. It was massive. The entire façade was made of mosaics and gold. It was so bright that you had to put your sunglasses on when you looked at it. Seeing the duomo made the jet lag worth it. Definitely one of my favorite things that I have seen so far. Everything about Orvieto was amazing. The people, the food, the sights, it was the most perfect welcome to Italy. It is definitely a place that I want to visit again one day!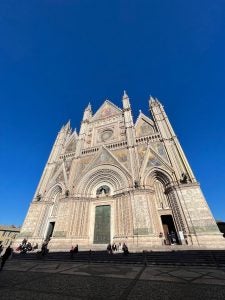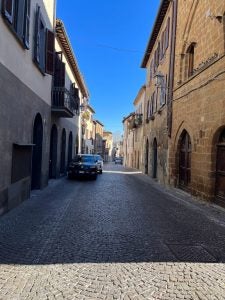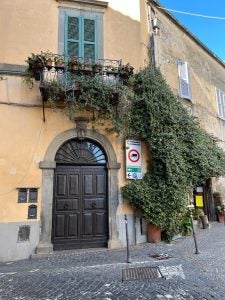 We have visited a few other smaller towns in Italy. We went to Bagnoregio, were we saw amazing views of the Umbria region and ate some delicious food. Bagnoregio only has 12 permanent residents, and no cars are permitted in the town, so it was easily walkable (once you completed the hike up to the town). The views were amazing from the town, and it was great to meet some of the locals. Everyone was super friendly!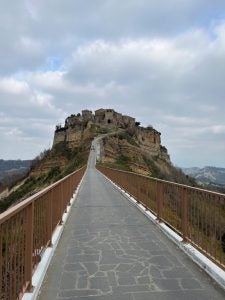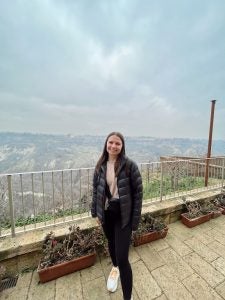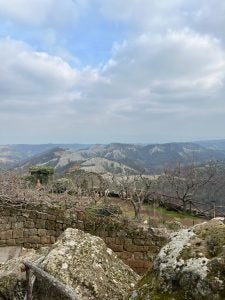 On our way to Certaldo, we stopped in Cortona where we hiked up to the church at the top of the town. We have done a lot of hikes so far, but this one was the most difficult. It was almost a 45-degree incline on a cobblestone path. Even though the trek up was exhausting, the view at the top was breathtaking, so I think it was worth it. After taking a little break at the top, me and my friends decided to walk down and grab some lunch and I ordered in Italian! I am so proud of how fast I have been able to pick up on basic Italian here. I practiced on Duolingo before coming, but it is not the same as actually talking to locals. Everyone is so friendly and so proud when you attempt to speak in Italian. After we left Cortona, we went to Montepulciano where we went wine tasting and tried Nobile and Chianti Classico which are both wines that are made in the town. I have enjoyed being able to taste all of the different wines from the different regions I have visited. I am able to taste something that the people of that region have worked so hard on to perfect. My favorite one so far would have to be the Orvieto Classico from Orvieto.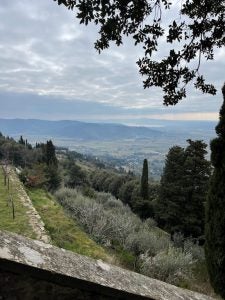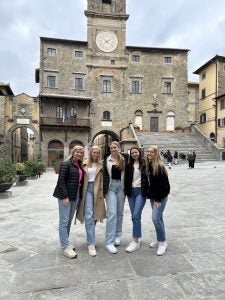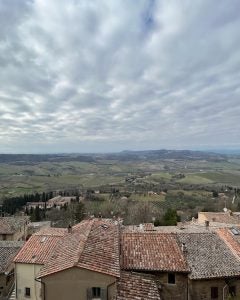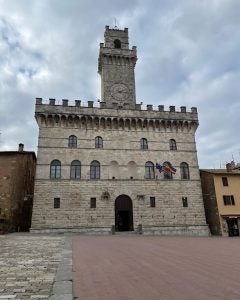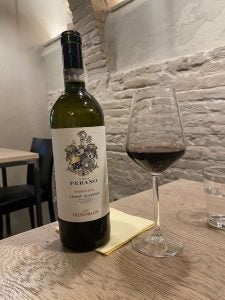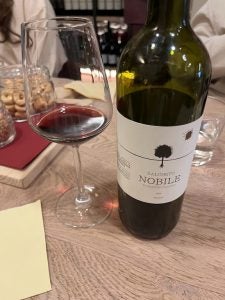 After a long day of traveling, we finally made it for Certaldo! I live in a 2-bedroom apartment with my friends Katie and Erica. Katie and Erica share a room while I have a room to myself, but we are going to switch around throughout the semester so that it is fair. So far, I really love Certaldo Alto. The people in the town love the students and are all very kind. We are just a quick walk from the hustle and bustle of Certaldo Basso and the most amazing café ever, Jam Café. I have been there at least 4 times so far. I do really love how peaceful Certaldo Alto is though, it's like a completely different world up here. It's amazing.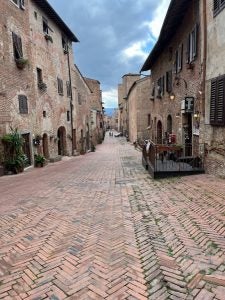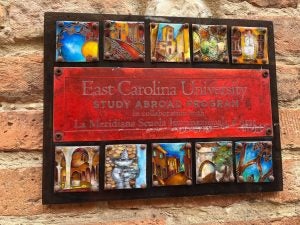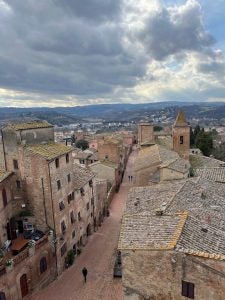 Our first day of class was in Florence. We had an early start to the day and caught the 8:54 train into the city. We got to Florence and met Silvia for our art appreciation class at the Museo di Palazzo Davanzati. This museum is a preserved palace from the 14th century that shows you how noble families lived at the time and the artwork that was done in the palace. It was cool to see how different floors had different type of artwork. The first floor had the most decorative art that showcased expensive fruit at the time like apples and oranges. It also showed symbols of Italian allies, including the fleur-de-lis which represented France. After our amazing class, we had the rest of the afternoon to explore Florence. I grabbed lunch with some friends and did a little bit of exploring before we caught the train back to Certaldo.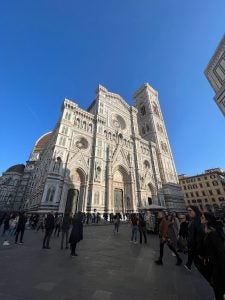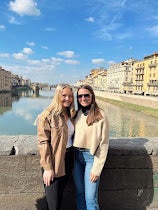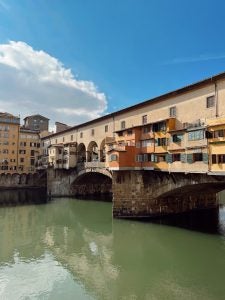 The rest of my classes are going really well! I love all of the teachers here! Our history class is really interesting and I also really enjoying geology class. I am super excited to get started creating things in my color and design class! I will definitely have more updates about classes in my next blog, we just haven't had that many class days yet.
My favorite thing that I have done is buy a post card in every single town that I have been to so far. I'm planning on making a scrapbook with all of my post cards, train tickets, museum tickets, and just all the little knickknacks I am going to collect. I also love how close everyone in my group is starting to get. It has been so easy to talk to everyone and I am making some really great friends that I probably would not have met if I stayed in Greenville!
This was kind of a lengthy blog post, but I just wanted to share every last detail with you guys! I'm so excited to share even more as my time here goes on. Thank you for reading!
Arrivederci!
Abby <3
Hi everyone! My name is Abby Mountz, and I am a sophomore at ECU majoring in Speech and Hearing Sciences with a minor in Psychology. I am studying abroad in Italy this semester for about 3 months, and I am so excited to be able to take you guys along with me! I am doing the ECU Tuscany program in Certaldo Alto, Italy with 21 other ECU students. I am going to be taking 4 classes while I am abroad. They are Roman history, photography, art appreciation, and color and design. My art appreciation class is taught by an Italian professor, Sylvia, who is amazing! Each Thursday we take the train to Florence and go to different art museums. I am also thinking about adding a yoga class while I am there. I mean when else can you do yoga every morning in Tuscany?
I am looking forward to connecting with all of the students in my program. I am a very social person and normally involved in a lot of things while I am on campus. I am a member of Zeta Tau Alpha, Order of Omega Honor Society, Rotaract Club, Junior Panhellenic, and the Honors College. I love meeting new people and from what I can tell, our group of students all have very diverse majors and interests which is exciting!
I leave in about 2 weeks, and I have not started packing yet, oops! I am starting to make a list of last-minute things that I need to go get from the store. I just finished saying my last goodbyes to my friends, which was really hard. Even though I am going to miss them, knowing that my friends are so excited for me makes leaving a little bit easier. Since I haven't had anything to do on campus, I've been living at home for the past month, which I am enjoying since I get to spend some extra time with my family.
I am the most excited about getting a different perspective on life! I have never left the country before, so I have always felt like I am stuck in my North Carolina bubble. I can't wait to get out of it and see what the rest of the world has to offer. I know what you're thinking, I'm crazy for choosing a 3-month study abroad program to be my first time leaving the United States but go big or go home! I can't wait to share my adventures abroad with all of you! I will update you next when I am in Italy!
Ciao!
Abby <3