Cooper – South Korea – Global Fellow
Arriving back in the US after being in South Korea is certainly a strange feeling, and I have to say that I think the culture shock is more noticeable on the return that it was in South Korea. One primary thing I noticed was how weird it felt to be surrounded by fluent English speakers, as I had grown so accustomed to the language barrier and having to navigate around that in all of my interactions. I went to a coffee shop the following day in Raleigh while I was recovering from jet lag, and when I had finished ordering I almost caught myself saying "kamsahamnida" to the barista out of habit (which is Korean for thank you).
The trip certainly changed my perspective on how I view the US a lot, though. One main thing I noticed was the stark difference in how easy it was to use transportation, as moving around in Seoul was much easier thanks to the easily accessible public transportation and the dense, walkable areas. Back in the US, in order to do pretty much anything, I have to get in my car and drive there, which can feel much more like a chore when you've grown used to not having to do that.
I have also really missed the food, as that was one of my favorite parts of the trip and I haven't been able to find many options for Korean cuisine since I have been back. Kimchi seems to be one of the few things which you can find here, and there is a Korean barbecue restaurant which opened in Raleigh which I hope to try soon.
One of the parts I really miss, however, is just being in the city itself. With Seoul, there was so much to explore, and it felt like no matter where you went in the city, there was always something cool nearby that you could do. Walking one block in any direction could lead you to a small marketplace, or a great restaurant/café, or you might stumble upon one of the historic Korean palaces that survived over the many years of Seoul's urban growth. It was a much different feeling than I was used to from visiting American cities, and I've noticed that I don't really get the same sense of wonder from visiting somewhere like Raleigh or Charlotte, or even walking through the downtown in my hometown. Even a place like New York City, which I got the chance to visit last fall, just does not compare to a city like Seoul, which is so distinct and unique in its own special ways.
I hope to travel back to South Korea at some point in the future. My time spent in Seoul has made me very interested to see the other parts of Asia, and I would love to be able to travel to other Korean cities like Busan or get a chance to go to a popular Korean vacation spot like Jeju Island.
Our morning Tuesday began bright and early with an almost two-hour long taxi ride to the Demilitarized Zone (DMZ) at the South Korean border. The DMZ is a buffer zone that exists between both South and North Korea, with few people living there in what are known as "peace villages" that belong respectively to either of the two nations. We got to travel inside the DMZ on a bus, and were able to see what it was like at one of the tensest borders in the entire world, while also learning more about Korean history and South Korea's strenuous relationship with North Korea.
One very cool activity which we got to do was venturing down into the tunnels underneath the DMZ. During different points in the late 20th century, even after the signing of the Korean peace armistice, North Korea continued to dig tunnels underneath the DMZ with the intention of being able to move military men and vehicles through them if a situation were ever to arise. These tunnels were discovered by South Korean authorities, and the Third Tunnel has now been fitted to allow visitors into the tunnel itself. The tunnel is 300 meters deep in the ground, with very low height clearance and very little room to move. Phones were not allowed in the tunnel, so I was not able to get any pictures, but at the end of the tunnel (or the beginning of the North Korean portion of the tunnel) there was a large metal structure which separated the two areas, and cameras which showed footage of both sides on a monitor which was above the large metal wall. A window was installed on the wall so that visitors could glance into the North Korean side of the tunnel.
After the tunnel, we got to travel to Tongil-Chon (Reunification Village) within the South Korean portion of the DMZ. There we got to try their famous soybean ice cream, as well as check out other products which were produced and made in the DMZ. We then made our way to the observatory, which sat atop a hill overlooking the Military Demarcation Line (MDL) which divides the two sections of the DMZ. By looking out from the third-floor terrace, you could see both the South Korean and North Korean flags and the line which formed the boundary for the two nations.
Leaving the DMZ, we decided to go to one of the small towns near the border and grab lunch. The town had many different interesting shops and a very neat art gallery. I found a Korean thrift store in this town that had good deals, as they sold by weight, so I bought a few sweaters and jackets. After a couple hours of exploring the town, we decided to take our taxis home and return to the hotel, since we were all very tired from waking up early.
The following day was one of my favorites so far, with our group getting the chance to visit Seoul's city hall and learn about the advanced transportation system (which we had already been using the last few days to get around), which is known as TOPIS. TOPIS stands for Transportation Operation and Information System and is the central hub which organizes and operates all of Seoul's transportation from city hall. The system helps reduce inefficiencies through a variety of different methods, such as rerouting buses to help service busier stations, closing lanes after collisions occur, enforcing parking and speed regulations for automobile drivers, and much more. It was amazing to see how interconnected the city's transportation was, and how Seoul was able to take the concept of a "smart city" and apply it to their city in real life.
After our time in the city hall, we left for lunch and then explored some nearby parts of the city. This part of the day included visiting the Deoksugung Palace, which was the last palace to be inhabited by the Joseon Dynasty prior to Japanese occupation in 1910. The palace included various different buildings which were unique in their own ways, as some were built in a more western fashion while others maintained the more traditional and oriental style of architecture.
Our nighttime experience was easily one of the coolest parts of our day though, with us going to the street food market near our hotel for dinner and then visiting Seoullo 7017, which is an elevated pedestrian garden pathway which was built atop a former freeway in the inner city. The street food market was one of my favorite dining experiences yet, getting to try a variety of dishes which included kimbap, a homemade spicy octopus dish, mungbean pancakes, and hotteoks (which were by far my favorite).  It was also a good chance for us to meet some of the locals, as we had a great conversation with one of the guys who was at the market about his experience living in South Korea and in the city. A short bus ride from the market brought us to Seoullo 7017, where we walked up the stairway and were greeted with the beautiful scenery of the garden path at nighttime. Purple LED lights lit up the pathway with a nice glow at night, and when combined with the piano music which was being played, it created a very serene and peaceful atmosphere. One of the students in our group even got the chance to play the piano and had some spectators stop and walk over to listen. We also found out that all of the plants which lined the pathway were native species to South Korea and the region as a whole, with our professor even being named after one of the plants on the path.
We started off the morning on the 27th with our first rainy day experience in Seoul. The first activity for the day involved traveling south of the Han River, where we visited the Mullae Art Village and took part in the Jane Jacobs Walk, discussing the impacts of art, urban regeneration, and gentrification in this part of the city. The village was a beautiful historic area which featured lots of nature and art which had been integrated into the older ironworking buildings. Joining us on this walk were students from Ball State University, and towards the end of the walk we all went together to a local café that was in the village.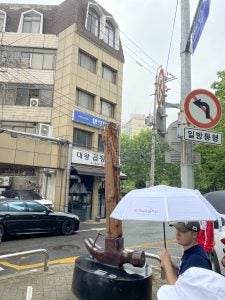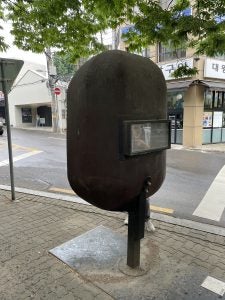 Some of my favorite pieces of art which we saw were these sculptures of a welding mask and a hammer, which was overall supposed to be reflective of the original culture and history of the village. These pieces felt like a reminder of what Mullae Art Village used to be, which is important now that the art village looked starkly different.
We traveled back across the river by subway following the walk and headed to one of the shopping districts which was nearby. After getting a quick bite to eat at one of the restaurants, we set out to look for nice clothes, food, and souvenirs which we could bring back. Shortly into our shopping, we discovered a cat café with the help of our professor and decided to stop in for a quick coffee. The place was absolutely packed, with many families coming in to spend time with their feline friends.
After spending some time shopping, we went back to the hotel and rested before heading out as a group for dinner. It was absolutely pouring on our way to dinner, so we were very happy to sit down and relax! Our dinner was Korean barbecue wings with a variety of different side dishes, and we got to try makgeolli, which is a traditional rice-wine which is very popular in South Korea.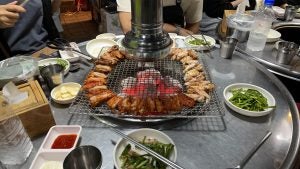 The next day, we were supposed to visit the World Cup Park and Seonyudo Island, however, these plans were sidetracked by the weather. Instead, we ended up at the National Museum of Korea, where we had a great opportunity to learn about Korean history and culture. The museum was massive, with a grand entrance built around a large pond in the front that was gorgeous, even in the overcast weather that day. I also stopped by the museum shop, where I found a nice traditional Korean tea set that I decided to buy to bring back for my family.
After the museum, we decided to visit the Starfield Mall, which was an amazing upscale mall located south of the Han River. Included in the mall was the Starfield Library, which was a large plaza which contained books that spanned every single wall in the area. We also went to a K-pop store which was in one of the nearby buildings,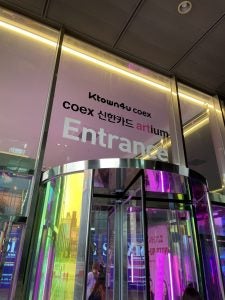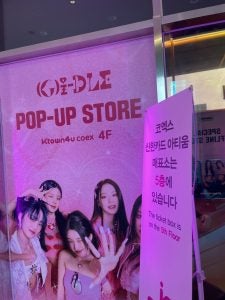 We finished up the day with a bit of free time exploring the Hongik University district, and our dinner consisted of spicy chicken and ramen at a small local restaurant. This morning, we got the chance to visit CA Landscape Design Company, which is a local architecture firm in Seoul. We met with the president of the company, who is currently in charge of the design for Busan's 2030 World Exposition Bid. This experience helped us learn a lot about the ins and outs of Korean urban planning, and we got to ask questions about what the process was like getting this project completed and the impacts it would make on the community within Busan.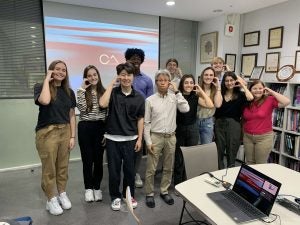 Right after, we got the chance to visit the Cheonggyecheon Stream, which is a natural stream that runs directly through the city center of Seoul. We found out that the stream, which had been almost entirely destroyed when an elevated freeway was constructed over it almost fifty years ago, was revitalized in the early 2000s to provide a green space for pedestrians and bikers to enjoy nature within the city. The space was beautiful, with different sections of the stream being designed by different people to help diversify the space and make each section feel unique in its own distinct way.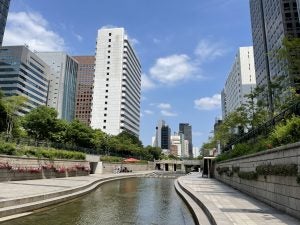 By this point it was late and we decided to grab dinner as a group, so we found a small restaurant in one of the market areas which was nearby. I decided to take this chance to try a spicy Korean squid dish, which I absolutely loved.  Following dinner, we made our way to Namsan Park, which is home of the famous Seoul Tower. We rode cable cars up the mountain to the top where the tower was, and after a long elevator ride, we arrived at the tower's observation floor. The view of the city at nighttime was stunning, with bright lights stretching for miles out across the terrain, and the windows showed other major world cities and how far away they were in comparison to Seoul.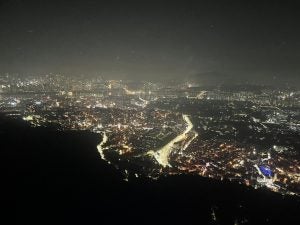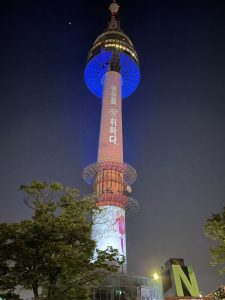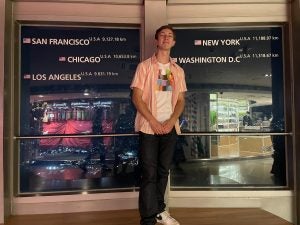 After arriving at our hotel in Seoul on Wednesday, May 24th, we have had a total of two full days so far to explore and see some of the incredible sights which the city has to offer. The flight was a grueling twelve hours, which consisted of much coffee, movies, and periodic naps when it was at all possible. We were very thankful to get off the plane after landing at ICN, and we fortunately had a pretty easy time getting through customs and the airport in general. We boarded the Korean Air Train and made our way for the Seoul Station, which would connect us to the subway where we could then navigate our way to the hotel. This process proved to be slightly more difficult than we thought, having to rely on public internet since we had not figured out our international SIM cards, and carrying the two weeks' worth of luggage through the subway was not particularly pleasant. However, we managed to find our way to the hotel after our professor, Dr. Hur, was able to communicate directions to us over the phone. We unpacked and grabbed some quick snacks and dinner at a small convenience store nearby the hotel, and as we were all very tired and jet lagged, we promptly went to bed to get ready for the next day.
I woke up early the next morning (5:00 AM KST to be exact) and struggled to fall back asleep as my sleep schedule was not quite adjusted yet, and so I decided to go for a light run in the city as a way to explore a bit and find some cool spots. I started from right outside the hotel lobby and ran up the road to the nearby Namsan Park and did a light jog through the park and up the mountain towards the Namsan Tower (or N Seoul Tower, as its otherwise referred to). The way up the mountain was quite the hike itself, with steep stairs and winding paths going all the way to the top where you could see an incredible view of the city from above. I did not go all the way to the tower, as we are planning to go there as a group in a few days and it was a bit farther than I had planned to go, so I settled for watching the sunrise over the Seoul skyline from an observation deck and then made my way back down the mountain and back towards the hotel. On my way back, I stopped at a convenience store next to the hotel and bought some yogurt and coffee for a quick breakfast.
The group met at a café and we had our first meeting together before heading out to a local restaurant for lunch, where we enjoyed our first taste of Korean bulgogi. This dish consisted of beef sirloin which was cooked with mushrooms and noodles in a broth and served with side dishes such as kimchi and rice, and it was a phenomenal first meal for our group. We then split up into three different groups and completed scavenger hunts around different parts of Seoul, which helped us learn to navigate the city and better adjust to our new environment. We got to explore the old Seoul Medicine District and went to a museum where we learned more about eastern herbology and medical practices.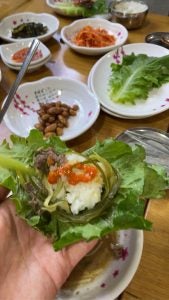 Our evening was composed of an art show featuring The Painters, a Korean group of dancers/artists who travel across Asia and the rest of the world performing for audiences, and later a dinner with our group. We went to a restaurant nearby the theater and had some very good wings, and later went back to the hotel. We were all still very tired, and as soon as we got back, we almost instantly fell asleep.
The second day I began with a walk to a nearby park which surrounded the Jongmyo shrine, and saw a fun district with lots of cafes, restaurants, and local pubs which I plan to return to one of the nights while we are here. After getting back to the hotel and getting ready for the day, me and two of the other guys in our group left to grab coffee and breakfast before meeting up with the group. As we were standing on the street trying to find a café, a kind Korean woman came up to us and asked if we were looking for coffee, which we responded yes. She then took us to a café which was on the first floor of a building she worked at, as she was heading to work for the day. She spoke good English and we had a nice conversation with her, which was one of our first experiences speaking to any of the locals in the city for an extended period, due to the language barrier. We got an amazing breakfast which consisted of coffee, a potato bagel, a bacon omelet sandwich, and these little chocolates which had green tea and lemon filling.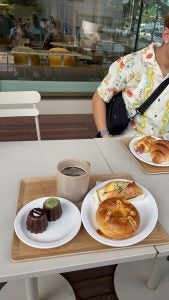 Our first activity was visiting the Global Knowledge Exchange and Development Center, where we learned about the rapid economic growth of South Korea's industry following their independence and the signing of the armistice in the Korean War. We then got lunch at a local restaurant and visited the campus of Korea University. After that, we went to a Buddhist temple where we got to view some traditional oriental art, as well has have tea and enjoy the views from the side of the mountain.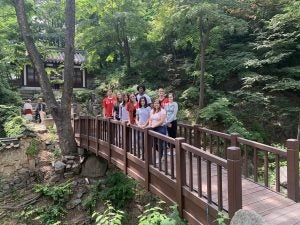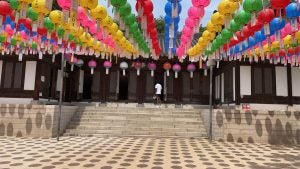 The final destination for the day was a social district which was located on another mountain near the city center. We made our way up the mountain, visiting various shops and enjoying smoothies and churros on our way. Once we made it to the top, we sat down and relaxed and enjoyed drinks at a beautiful café overlooking Seoul.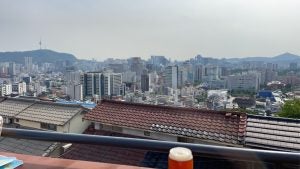 Today, we began our travels to South Korea at the Raleigh-Durham International Airport, where about half of the group is flying together to head to Seoul. Prior to today, I had packed my belongings for the trip in a large suitcase, a small duffel bag, and my book bag which held my important items. I spent the last day in Raleigh, staying with family that I had in the city so that I could get ready for my flight today, which I am currently on.
One thing I have learned so far is that it helps significantly to plan ahead and know exactly what you want to bring with you. With trips this far away, and for this long, you know that you are going to need more than just a weekend bag, so its good to make lists and to plan outfits for each day. I spent much of the last two weeks thrift shopping for my outfits for the trip, and I was able to create at least one unique outfit which will fit whatever activities we are doing on that day.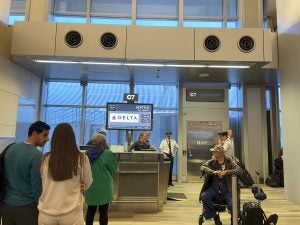 When we arrived at the airport this morning, I checked my bag and went through TSA with one of the other students from our trip. We met up with the rest of the group at the gate, and since we were all hungry and tired from getting up early (we got to the airport at 5:00 AM), we decided to go to one of the restaurants in RDU called La Farm. I got a tomato basil baguette and an iced chai latte, which was somewhat expensive but surprisingly good. After finishing our meal, we went back to the gate and began the boarding process for our flight to Seattle, where we will land in about five hours and wait for our connecting flight to Incheon, South Korea!