Zoi – Germany
Guten Tag!
I've been back in Greenville for a week now and it still doesn't feel real that I went all the way to Germany. I loved Europe so much and want to go back, maybe even live there. It is different being home and it was difficult to get adjusted back to my regular routine. I did not want to go back to work at all. The flight back to Raleigh was kind of rough. I had been up for almost two whole days and didn't sleep but an hour on the plane. From Paris to Raleigh was a little over 8 hours, so that was a long time to not sleep. I spent most of that time watching movies, playing games, and looking through my pictures and videos throughout the trip. Honestly, my jet lag wasn't too bad, I was tired the first couple of days but had to go to work, so I didn't get much time to rest. I am just now starting to get back into the swing of things and it's nice to be home with my friends. Berlin just felt like another world, and I miss it so much. On one of the last days, we got the scooters and were riding around the city it was a lot of fun and I wish I could go back to do it all over. It was an experience of a lifetime, and I will say this over and over, but I am SO grateful that I was able to go. The World Special Olympics is something that means so much to me and to be involved in the games is so crazy, I haven't even processed the fact that I was there. I am sad that this will be my last post, hope y'all enjoyed seeing my pics and reading my posts!
Bis Bald!
Zoi B.
Guten Tag!
My last day in Berlin was bittersweet. I am sad to leave this beautiful city but ready to be back in my bed with air conditioning and ice water. This day started out with a tour of the Pergamon, which is the most popular museum in Berlin. It was filled with lots of ancient artifacts. It was extremely neat to see all of this and learn more about history.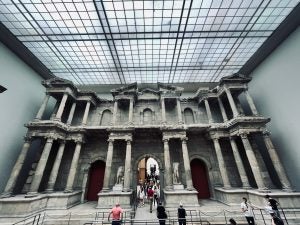 After the museum I walked through a small flea market, there were lots of booths full of handmade jewelry, art, and some knick knacks. We had some free time before our next museum, so we went to lunch. Then did some souvenir shopping before we went home. Our last museum of the trip was the illusion museum. It was filled with interactable activities. It was cool and reminded me of Wonder Works in Myrtle Beach, just smaller.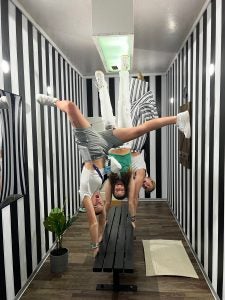 Finally, it was time for the closing ceremonies for the Special Olympics. This event was full of entertainment! Lots of music to dance to, which I enjoyed. They were lining up all the countries that participated and it was heartwarming. They announced there were the most female athletes this year to compete in the Special Olympics. I am so grateful to experience the World Special Olympics. Now that I have been once, I want to keep going, so Italy 2025 winter games….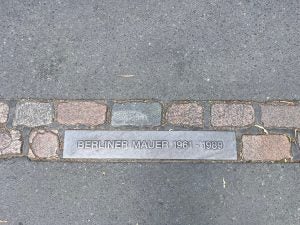 But here I am pulling an all-nighter, our first flight from Berlin to Paris leaves at 6 AM and we've got to be at the airport at 4 AM. Wish me luck with the travel back home.
Bis Bald!
Zoi B.
Guten Tag!
Today we have a day planned full of tours and lots of fun stuff. We started out on a darker note at the Topography of Terrors. This was a museum that focused on the evolution of Nazi crimes. Reading all the information and learning more about this time in history was interesting. The pictures were disturbing and acted as an eye-opener for me. Of course, I know a little about the history of Germany with the Holocaust, but seeing the graphic images hit different.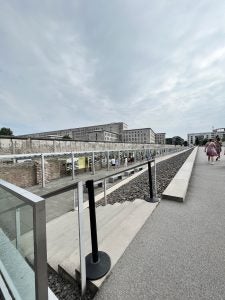 After completing this museum, we went for lunch at the mall. The reason we ate at the mall is because there is an option for EVERYONE. I got butter chicken and rice, let me just say it was amazing 10/10 would eat again. There were lots of reasons I came on this trip and one of them was to step out of my comfort zone in every sort of way. So, I had the option to get a burger that I was familiar with, but I decided to get the butter chicken which I never had before.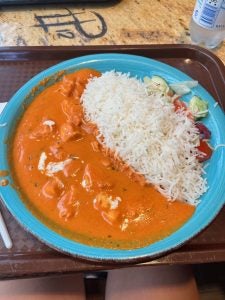 After this delicious lunch, we went to the Zoo, this was what I was most excited about, and I must say my expectations were met! I spent at least an hour in the monkey exhibit because monkeys are my favorite animal ever. I don't know if I was expecting different animals, but I saw some different types of monkeys that were interesting.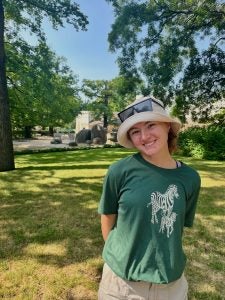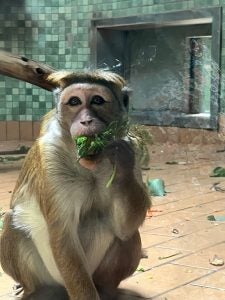 Also, today I saw not one but TWO Lamborghini Urus's within 30 feet of each other. This is like one of my dream cars and to see two so close together was crazy! Wow, I am almost a week in, and I have already learned so much about the culture. I have become really close with lots of people on the trip which is super exciting. I am enjoying my trip but looking forward to going home.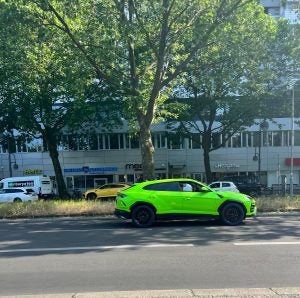 Bis Bald!
Zoi B.
Guten Tag! Today has been a great day, the most exciting thus far. We started bright and early at 7 AM and hit the road to our volunteer shift at the Special Olympics. I wasn't sure what I was going to be doing so I was a little nervous but mostly excited. I started out as a floater just going where I am needed and stepping in to help wherever. After a while, my friends and I were on the sidelines dancing to the music. The crowd was loving our vibe and they began dancing along. We kept this up for a while and then an official from the sports coordinator approached us and said he wanted us to dance on the court to hype the crowd up. So that's what we did. It was so much fun; they played some good music, and we danced our hearts out. We did such a good job that we were asked to dance for halftime during our next shift. This is something I never thought I would get to experience, and I am so grateful that I get to be here. It is the best feeling ever to see the people in the crowd and the athletes dancing along with smiles on their faces. The Special Olympics is obviously a competition but is also a time to have fun, I believe that the athletes are having fun and it's so wholesome to watch. I got emotional watching the games, it is amazing seeing how excited the athletes get when they score a basket. We ended our shift on a good note by dancing one last time for the day. After our shift, we stopped by "TK Maxx" which is a three-story version of TJ Maxx. I was in heaven when I walked through those doors. I spent some money and made some questionable purchases because now I must figure out how I'm going to fit everything in my luggage. After shopping, we went back to the hostel, got ready, and went to group dinner. It was delicious and it was nice to sit down and enjoy a meal while talking about our day. This has been my favorite day that I have had on this trip! Excited to dance tomorrow and watch some more basketball!
Bis Bald!
Zoi B.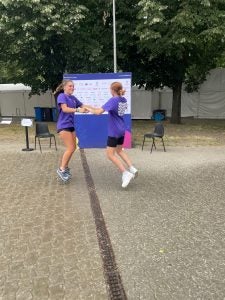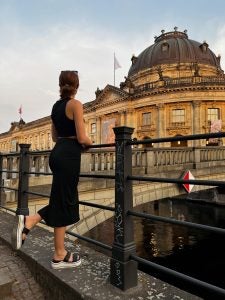 We started our day at 9 AM with some breakfast at our hostel. They had yogurt, cornflakes, sliced salami, sliced cheese, different types of bread, and fruit. I am a huge breakfast girly, but this is not what I expected for breakfast. Overall, I would rate breakfast a 5/10 but no complaints here breakfast was included. After breakfast we were going for a city tour, we started by learning about the transit system. I was intimidated by the trains and stuff because I don't know any German. But after using it throughout the day I am slightly less intimidated. We walked around Berlin most of the day looking at all the major buildings throughout the city. Lunch was at Vapiano's, which is a cool Italian restaurant. Later in the evening, we attended the Special Olympics World Games opening. The ceremony lasted about three and a half hours. They started out by introducing every country that was participating in the games, this alone took two hours. After they were finished introducing all the teams there was lots of musical entertainment. My favorite part of the ceremony was the torch run. The lit torch is run around the track, this signifies the beginning of the games. After the opening ceremony, we conquered the train, and it was SUPER packed because everyone was leaving the same place at the same time. We made it back to our hostel safe and sound! Had so much fun today, I am looking forward to seeing the athletes compete.
Bis Bald!
Zoi B.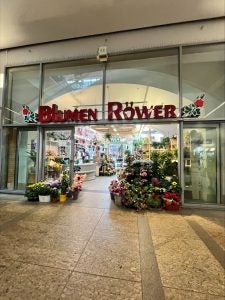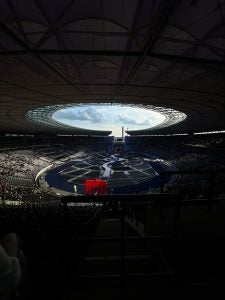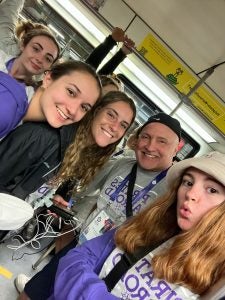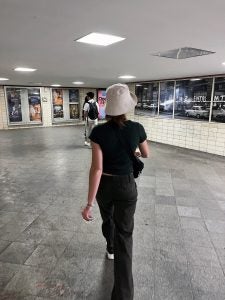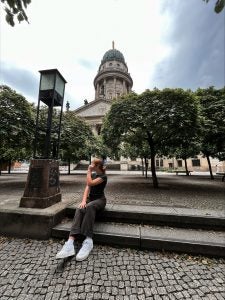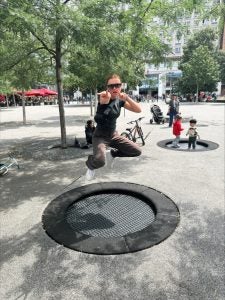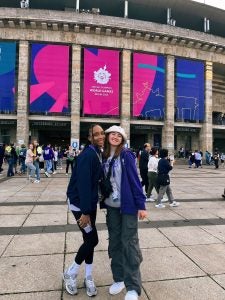 Today we flew from Raleigh to Paris then to Berlin. The flight was 8 hours from Raleigh and wasn't too bad. Luckily, I was able to sleep almost the whole way. Then we made it through the Paris airport quickly without trouble. The flight from Paris to Berlin was about an hour and a half, this flight was a little bumpy because of a storm. I was nervous about my luggage getting lost between flights, but I was able to get my bag from the baggage claim! After claiming my bag, we met our World Strides coordinator. She is the one that has helped set up everything in Germany, she was super helpful. She got us to our shuttle which took us to our hostel. The drive from the airport to the hostel was interesting, driving in Europe had me on the edge of my seat, everyone gets super close to each other. Our hostel is super cool, with lots of art on the walls, and a chill area outside with tables. Once we got to our hostel we grabbed some food, went back to our room, and rested for a little. Not much later we got ready and went to dinner. It was raining for most of the evening, it poured on our way back from dinner. It was very gloomy, which fit the vibe of Berlin. I am super excited to see what the rest of our days look like. I am excited to see the other museums!
Bis Bald!
Zoi B.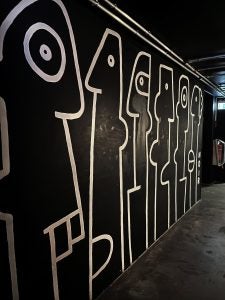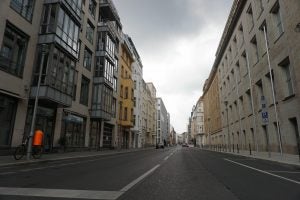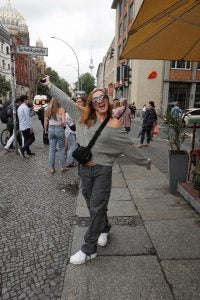 Guten Tag! My name is Zoi Blackwell, in the upcoming fall semester I will be a senior and I am majoring in Recreational Therapy. I am from Whiteville, North Carolina. I transferred to ECU from Cape Fear Community College where I received my Associate in Science. I will be going to Berlin, Germany for 10 days. During these days I will be volunteering at the World Special Olympics!
I have spent months preparing for this trip. This included buying a new suitcase, lots of clothes, and even a new camera to document the whole experience. Now as I begin packing, I am trying to figure out how to fit all these clothes into one suitcase. The best purchase I made has been my compression packing cubes! I can fit so much more stuff into my suitcase while also being extremely organized.
As I am preparing to leave the States there are many emotions I am feeling. I am stressed, anxious, overwhelmed, and the list goes on but most of all I am over the moon excited for the next 10 days. I am unsure how to prepare myself for such a life-changing encounter. The World Special Olympics is something most people don't get to experience, and I am extremely grateful that I get this opportunity. Not only am I ready to work with the athletes but I also can't wait to see the city of Berlin and learn more about German history. By the end of this trip, I would love to have a greater understanding of German culture and learn more about adaptive sports.
Bis Bald!
Zoi B.